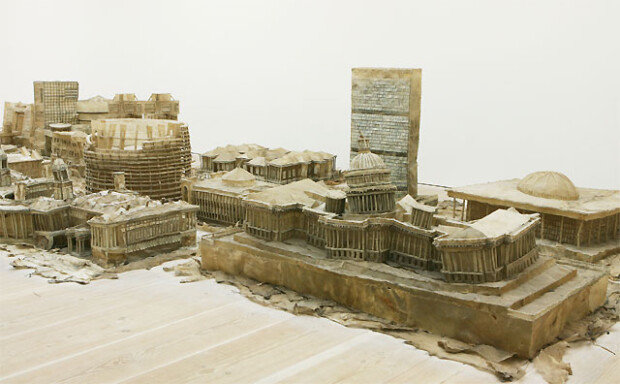 Everyone dreams of their own utopia. The fact that is does not exist in reality makes them feel more desperate for the place. Thomas More's 1516 book "Utopia" describes an ideally fair and rich nation that puts freedom and equality first and foremost. Of course, the author devised the idea of a utopia to criticize the opposite reality filled with despair. Have we come any closer to the utopia for the several centuries of human progress, which have brought enormous advancement and shift.
Chinese modern artist Liu Wei presents an answer to this question by visually realizing the utopia of the 21st century. His portfolio encompasses drawings, videos, sculptures and large-scale installations. He has used everyday stuff as materials to illustrate cities with his huge installation that signifies a utopia of authority as well as a fictitious city with internationally famous political, religious and cultural architectures. Liu's artwork includes the world's 25 famous buildings that symbolize power and ambition, such as the Colosseum, the Solomon R. Guggenheim Museum, St. Peter's Cathedral, Tiananmen, the United Nations headquarters, and the Capital of the United States. The South Korean National Assembly building is also included in the work.
What's interesting is that Liu's choice over materials relegate such powerful and significant buildings to something silly and ridiculous. That is because they are made of dog bones, which can be bought at pet product shops. Dogs chew or play with the snack made of bull inner leather, but the Chinese artiest used dog bones as a fundamental material to build a utopia of power.
Even though Thomas More in the 16th century advised readers to dream of an ideal society while criticizing the reality, Liu Wei of the 21st century seems to declare that there is no such thing as a utopia. The Chinese artist may have rather created the artwork with dog bones that doggies would chew off in order to point out that today's world is a utopia only for a few people with power. It can probably explain why the title of his work is "Love it! Bite it!" We may not know if this message aims to those blinded by power or to starving dogs. However, it is implied that Liu must have found some common ground between the two.