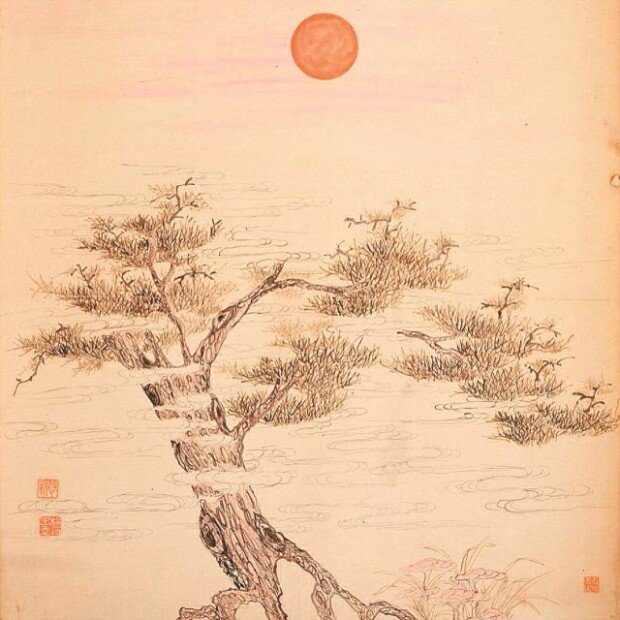 On August 30, 1888, the first Korean Minister to the U.S. Park Jeong-yang and nine other staff held a small party at Fisher House in Washington D.C., which was used to be the Korean Legation, to celebrate King Gojong's birthday. Cheongun Kang Jin-hee (1851-1919), who had been chosen to accompany the minister for his great command in foreign languages, picked up his brush and started painting there.
The paintings Kang drew in the U.S., where he served as a staff at the Korean Legation, have recently been open to public. The exhibition titled "Modern Transitions in Korean Calligraphy and Painting," which opened on April 16 at the National Museum of Korea, displays "Seungilbansongdo" and "Samsanyookseongdo" by Kang Jin-hee. The "Samsanyookseongdo" depicts the legendary Samshin Mountain, where mountain deities and the potion of eternal youth and immortality exist according to a legend. Kang drew the painting to celebrate King Soonjong's birthday.
"The painting has significance in the research of modern paintings and calligraphies in that it is the earliest painting drawn by a Korean in the U.S. during the latter period of Joseon," said Kim Seung-ik, an art and science researcher at the National Museum of Korea. "It is also meaningful in that the painting has been open to public to mark the 100th anniversary of the death of Kang Jin-hee."
Kang was an intellectual and also a master of calligraphy and painting, who could speak fluent Japanese and English. Since his arrival in the U.S. in 1888, he recorded history by means of painting. The "Hwachabunbyeoldo" portrays the scenery outside the Korean Legation in Washington D.C., where two trains come and go from distance. It could be considered the first travel painting that depicted a U.S. landscape.
To celebrate its first anniversary of reopening on May 22, the Overseas Korean Cultural Heritage Foundation is planning to exhibit Kang's paintings at the old building of the Korean Legation in Washington D.C. "Our recent analysis of the pictures taken inside the Korean Legation in 1893 found that there were more paintings presumably drawn by Kang," said Kang Im-san from the heritage foundation. "His legacy still remains in Washington D.C."
Won-Mo Yu onemore@donga.com