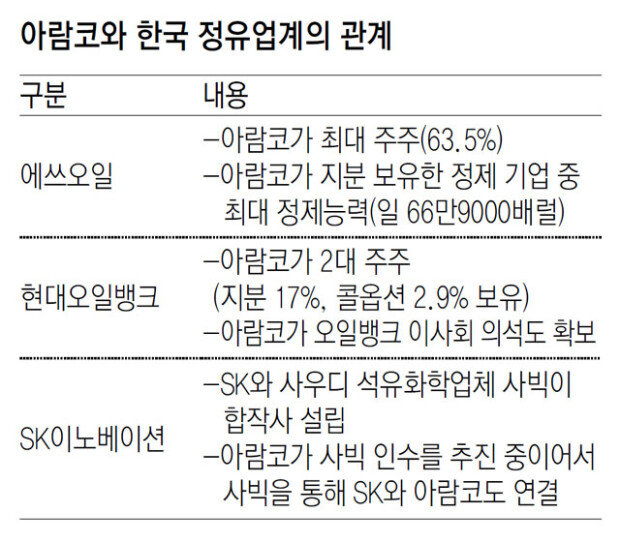 Saudi Aramco has a close connection with the Korean oil refining industry. The Saudi Arabian company holds a stake in or works with three of the four major Korean oil refineries—SK Innovation, S-Oil, and Hyundai Oilbank—with GS Caltex being the only exception.
S-Oil, the fourth largest refinery company in Korea, is a subsidiary of Aramco. In 1991, the global giant bought a 35.0 percent stake of Ssangyong Oil Refining Co., which was held by Ssangyong Cement then. It took an additional 28.4 percent stake when Ssangyong Group was dissolved during the Asian financial crisis and became the largest shareholder of S-Oil with the stake currently owned standing at 63.5 percent.
Aramco has recently become the second largest shareholder of Korea's No. 3 refiner Hyundai Oilbank, following the largest shareholder Hyundai Heavy Industries Holdings, by purchasing a 17 percent stake of Hyundai Oilbank held by Hyundai Heavy Industries Holdings for 1.4 trillion won on April 15. The largest shareholder has given a call option—an option to convert preferred stock to common stock—for its 2.9 percent stake to Aramco as well. If exercised, Aramco's ownership will go up to 19.9 percent.
Korea's top refiner SK Innovation is also in indirect cooperation with Aramco. SK Innovation founded a joint venture called SABIC SK Nexlene Company with SABIC, a Saudi Arabian petrochemicals player, to produce high-performance metallocene polyethylene plastic known as Nexlene in 2015. Aramco recently announced a plan to acquire 70 percent of SABIC's stake by 2020. Once the acquisition is completed, SK Innovation and Aramco will have an equity stake relationship.
"Aramco's employees often mention S-oil as a successful investment case during meetings. The recent purchase of Hyundai Oilbank's stake is in line with such interest too," said commercial attache An Chang-yong of the Korean Embassy in Saudi Arabia. "It's not just that they are keenly interested in the Korean market—it seems like they see Korea as a base for whole Asia."
Dong-Il Seo dong@donga.com