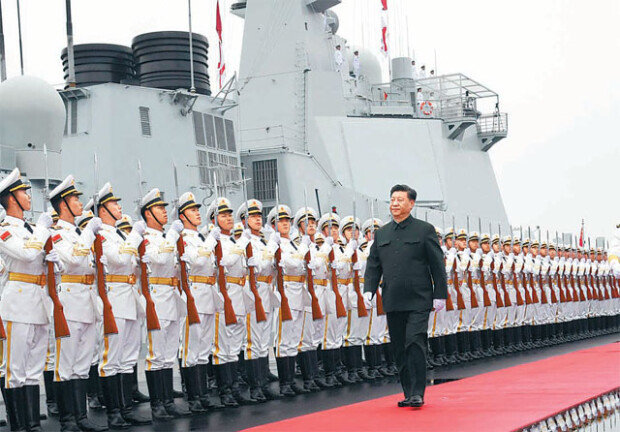 China disclosed the self-claimed world's best guided-missile destroyers, the Type 005 destroyer or Nanchang, on Tuesday when President Xi Jinping viewed a major naval parade. Known as the rival for the United States' Aegis destroyer, the Type 055 destroyer appeared at the ceremony held in celebration of the 70th anniversary of the establishment of the Chinese Navy. The United States did not join the ceremony.
With tooting sounds, the Type 052D destroyer, Xining, carrying President Xi left the Qingdao Olympic Sailing Center in Qingdao, Shandong Province, China at 1:00 p.m. on the rainy day. Compared to last year's first naval parade in South China Sea where Xi wore a military uniform, he was dressed in a Mao jacket on Tuesday.
Upon the Xining destroyer arriving in a coastal waters zone for the parade around 2:30 p.m., around 32 units of Chinese warships passed in front of Xi in files centered around the Liaoning or China's first aircraft carrier, the newly released Nanchang, then new generation nuclear submarine, convoys and landing ships, guarded by 39 Chinese fighter's jets. The number of participating warships was reduced compared to last year's naval parade held with 48 warships and 76 fighter planes. However, some twenty warships sent by 10 countries including South Korea, Japan and Russia joined the naval parade.
The Hong Kong Ming Pao reported that the Type 005 destroyer is the strongest of its kind in Asia. The next generation destroyer was developed to convoy aircraft carriers with 180 meters in height, 23 meters in width and a displacement of 12,500 tons. It is smaller than the U.S. Navy's guided-missile destroyer USS Zumwalt (15,000 ton) but larger than the Korean Aegis Sejong the Great-class destroyer (10,000 ton) and the Japanese Aegis Atago-class destroyer (7,700 ton). It has been known that the Type 005 destroyer is equipped with 112 vertical launch pads and stealth feature, capable of air defense, attack on warships and submarines and surface-to-ground attack. Ming Pao assessed the Type 05 destroyer as the world's second strongest following the U.S. Navy's Aegis Arleigh Burke. It has been reported that China has been building or test-sailing six units of the Type 005 missile destroyer added to the Nanchang.
The Chinese president met up with delegations of the parade's participating nations in Qingdao on Tuesday morning, arguing that each country should not wield military power or threaten other nations by force of arms but actively and constantly engage in talks. It has been thought that his message is directed at the United States executing Freedom of Navigation Operations, not accepting China's sovereignty over South China Sea where China is in territorial conflict with Southeast Asian nations.
Wan-Jun Yun zeitung@donga.com