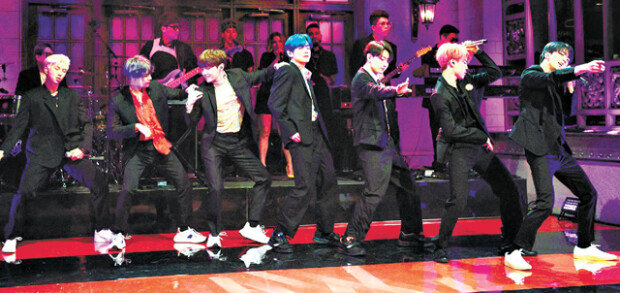 South Korean boy band BTS is on its way to set a record of debuting No. 1 on music charts both in the U.S. and the U.K.
The Billboard and the Official Chart on Monday (local time) said on their official website that BTS' newly released album "Map of The Soul: Persona" is set to top the "Billboard 200" and "Official Albums Chart."
This would be the first time for South Korean singers to get their first U.K. No. 1 album. The Official Chart said BTS is set to "become the first Number 1 album from a Korean act on the Official Chart" as the album is already ahead by 10,000 sales.
This would be the band's third "Billboard 200" No. 1 album followed by "Love Yourself: Tear" and "Love Yourself: Answer," which were released in May and August of last year, respectively. The Billboard expected that "Persona" would sell more than 200,000 by Thursday to top the Billboard 200 on April 27. BTS' cruise to the No. 1 spot on the Billboard has been expected earlier when their new album remained at the top spot on Amazon's Best Sellers in "CDs & Vinyl" chart for a month and had more than three million pre-orders at home and abroad.
BTS has also become the first Korean band to set a record in live streaming. BTS' "Boy with Luv" featuring Halsey is staying at No. 3 for two days on the "Global Top 50" chart of the world's largest digital music platform Spotify.
BTS will kick off their North America and Europe tour on May 4 at the Rose Bowl Stadium in Los Angeles.
imi@donga.com