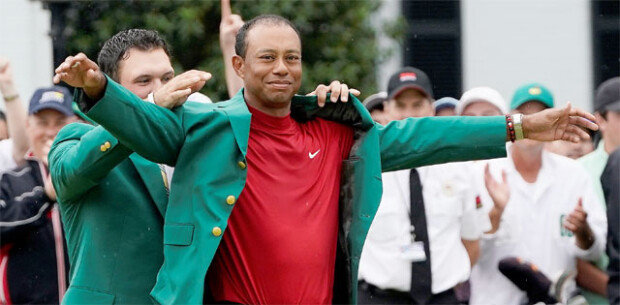 Tiger Woods finished with a two-under-par 70 (six birdies and four bogeys) to win on 13 under, overtaking his competitors merely one shot clear at the Augusta National Golf Course in the U.S. state of Georgia on Sunday (local time). It was at the final stage of Round 5 at 2019 Masters Tournament, the first major competition on PGA Tour this season, whose winning prized is 2.07 million U.S. dollars.
The tournament saw a fierce competition between contemporary golf masters. It was nearly impossible to predict the result of the game with five players jointly leading it at some point on Round 4. In this "jungle" of world class favorites, it was Tiger Woods who cried shouts of triumph. Brooks Koepka, Xander Schauffele, and Dustin Johnson, who tied for second place, only accentuated the dramatic impact of the "Return of Emperor."
Among the 15 major wins that Tiger Woods has claimed, this was his first reverse win, which explains how fierce the competition was. Francesco Molinari of Italy, the long-standing rival of Tiger Woods, won't budge from his lead.
It was in the seventh hole that Molinari's armors began to crack, when the Italian was getting ready to wrap up the final round with a two-shot lead. Making a mistake in tee shots, Molinari put an end to his no-bogey streaks at 49 holes. In return, Woods sank a 30-centimeter birdie in his second shot, adding pressure to his Italian competitor.
Ditching Molinari, however, Woods faced even more fierce competitions at the 16th hole, where all of them could become a potential champion of the tournament, but he remained calm and sealed victory with a delicate tee shot.
The ball fell on the right side of the flag and traveled downhill before stopping one meter shy from the hole. The American won a birdie with ease and snatched the lead by himself. At the 18th hole, Woods lost one shot with a tee shot mistake, but it did not change the fact that he was winner of the day. After sinking his champion putt, Woods threw up his arms in the air and savored the moment of a dramatic victory, returning the raucous standing ovation from the crowd with a wide smile.
ysahn@donga.com