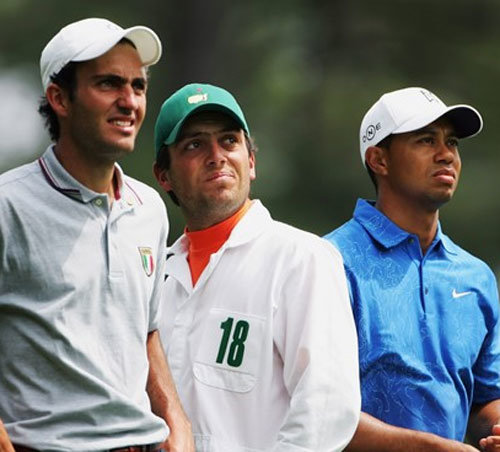 Tiger Woods of the U.S. was the hero at the Masters Golf Tournament in 2006. At that time, Woods was having the best days in his career. He had already won the Masters in 2005, and put on the "Green Jacket" for the winner of the prestigious championship for the fourth time.
In that year, Francesco Molinari of Italy was taking the first and second rounds of the tournament with Woods: not as a golfer but as caddie for his elder brother, Edoardo Molinari. Masters has the tradition wherein the tournament's champion in the previous year plays in the same group with the winner of the U.S. Amateur Championship. Thanks to his brother who was then the winner of the U.S. Amateur Championship, Francesco Molinari had his first encounter with Woods, his hero and role model.
Francesco Molinari is set to meet with Woods this year in 13 years: as a player in the same champion's group. Molinari played six under in the third round of the Masters, which took place at Augusta National (par 72) in the U.S. state of Georgia on Sunday, to post 13-under 205 overall through the third round and to emerge as the lone frontrunner. Woods, who shot 11 under par, was tying for second with Tony Finau of the U.S.
The three players kicked off the final round at 10:20 p.m. Sunday (Korea time). Traditionally, two golfers play on the final day at the Masters, but the organizers decided to advance the tee-off schedule and let the three golfers to play together as a group as bad weather is expected.
Molinari, who was not widely known 13 years ago, has won three championships in the PGA Tour, and six in the Europe Golf Tour since. He has been drawing keen attention as Woods' "natural enemy." At the British Open (The Open), a major PGA event, Molinari reduced two strokes on the final day, and became the first Italian golfer to kiss the "Claret Jug," the champion's trophy of the tournament. Woods, who had been the lone frontrunner through Hole 10, played double bogey at Hole 11 to surrender.
Woods was also defeated in all three four-ball and foursome races he played with by Molinari's group at the Le Golf National, which took place in September last year. Woods and Molinari, who had started relationship in a special way, staged fierce competition on the final day of this year's Masters.
Heon-Jae Lee uni@donga.com