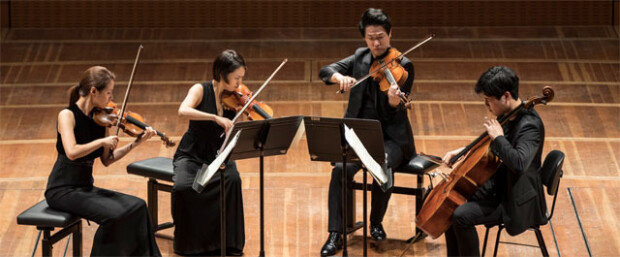 "They are really talented and sincere. Abel Quartet is team to watch out for," said a staff at Moc Production, a production company back in 2016. Abel Quartet could not be heard of for more than two years after that. They will finally return to Seoul to perform at the IBK Chamber Hall at the Seoul Arts Center on April 20 for their third regular performance titled "Back to the Basics." So what happened to them over the years?
"We returned at the country's calling," smiled cellist Cho Hyung-jun (32) and violist Kim Se-jun (30). Their answer was simple. Both men, who finished their military service, were reunited with Yoon Eun-seol (31) and Park Su-hyun (29). But this is not the only reason they are going "back to the basics."
"The string quartet of Debussy and Shostakovich No. 3 were the pieces that we played together for the first time. They were determined after much thought and debate," said Kim Se-jun. "But when we actually started to play together, it didn't go well as we thought. So we said we should save it for later on. The two pieces came to our mind when we got together this time."
Abel Quartet won first place in the Hyden International Chamber Competition in 2015 and third place in the Geneva International Competition. In upcoming July, they will be performing at the Finland Kuhmo Festival, one of the most prestigious chamber festivals in the world. Their invitation was extended through Park Su-hyun's earlier performance at the festival when the team temporarily disbanded.
gustav@donga.com