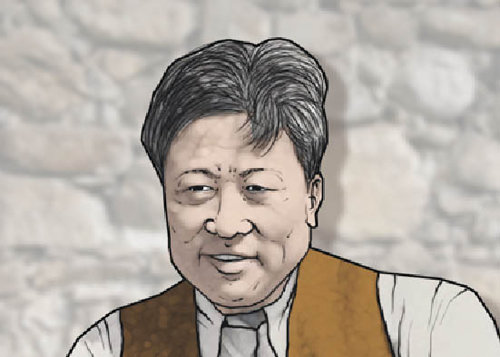 Kim Yoon-sik's gloomy and sorrowful poem "Geomungo" starts with the lines, "Leaning on the black wall/ Two decades have passed by/ Yet my giraffe cannot cry forever." The giraffe is a metaphor of the aloof tone and posture of the geomungo. Why is the giraffe unable to cry anymore after crying two decades ago? As the poem was announced in 1939, 20 years prior would be 1919.
When the March 1st Movement occurred, Kim Yoon-sik was attending Whimooneuisuk (now Whimoon High School) in Seoul. As the school shut down due to the independence movement, he sought for student movements in his hometown of Gangjin and later he was confined in the Daegu prison for several months. Twenty years have passed by but the reality got gloomier. "As the outside is occupied by a group of rough wolves/ Packs of monkeys pretending to be humans are roaming the street/ My giraffe has no place for its heart and body," the poet wrote. In a world where Japanese and pro-Japan Koreans are compared to wolves and monkeys rule, there was no place for the geomungo, i.e., art or freedom of the people.
"The nation's governors, theorists, religionists, educators, intellectuals, and literary people paid tribute to Japanese shrine as if their backs would break when they were asked to do so, and rushed to change their last names to Japanese names," Ham Seok-heon wrote at his book "History of Korea Seen through Meanings." Kim Yoon-sik rejected all these and lived with a strong heart. As his poem "With Poison" tells us, he chose to give up writing. With "Chunhyang" as his last poem in 1940, he did not release any single poem until Korea was liberated.
His 1946 poem "Delay," which was revealed via the Dong-A Ilbo, became the first poem since he gave up writing. The poem starts with the line "You sing and I will hit the drum." Calling himself a master who hits the drum, Kim sings along the song of life with a singer. The giraffe, or the geomungo, finally started to cry feeling at ease. The poet was able to find hope as his country regained independence. Kim Yoon-sik received the National Foundation Medal as an independence patriot last year. Although it was late, it was indeed a matter of course.
sunney73@donga.com