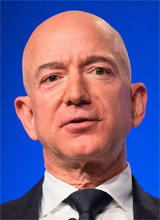 Jeff Bezos, founder and CEO of Amazon, has been named the world's richest person in the world, according to Forbes magazine on Tuesday (local time). Among 2,153 people on the Forbes' annual world's billionaires list, there are 40 Koreans, including Samsung Electronics Chairman Lee Kun-hee.
Bezos had the net worth of 131 billion U.S. dollars, up 19 billion dollars from last year. Though Amazon's stock has fallen from its peak of 2,012 dollars a share in August last year, the stock is still worth more than it was a year ago, says Forbes.
But the magazine pointed out that whether Bezos can "hold onto his vast fortune" after his divorce remains to be seen. Bezos announced in January that he is ending his 25 years of marriage with his wife MacKenzie. Later, a local media reported that he had an affair with a woman. It is unknown how the couple will split their fortune but some expect that MacKenzie "would become the richest woman in the world."
Microsoft co-founder Bill Gates, who topped the list for 12 times from 2001 to 2017, ranked second with the net worth of 96.5 billion dollars followed by Berkshire Hathaway Chairman Warren Buffett (82.5 billion dollars), LVMH Moet Hennessy Chairman Bernard Arnault (76 billion dollars), and Telmex Chairman Carlos Slim of Mexico (64 billion dollars).
Ga-In Koo comedy9@donga.com