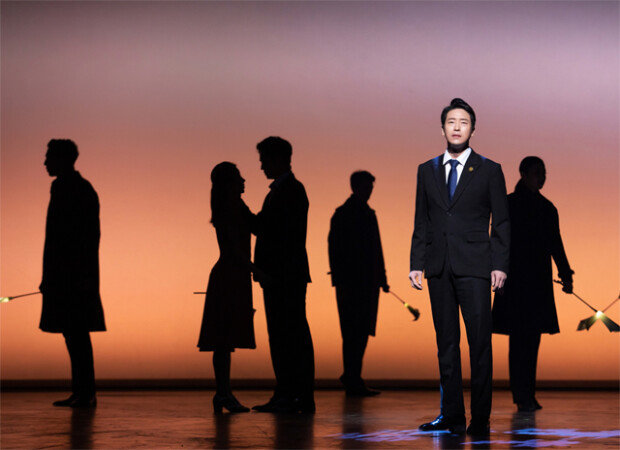 Jukebox musicals, which feature previously released popular songs, always have challenges to overcome. The audience cannot help but compare the singing skills of actors to those of the original singers. How actors breathe and act are compared as well. The musical "Those Days" has risen to the challenge with dignified chorus and powerful group dance in tune with arranged musical scores.
The musical depicts presidential security guards traveling back and forth time and trying to find the memories of "those lost days." It smoothly blends universal values, such as love, and friendship into the lyrics of some 20 songs by Kim Kwang-seok. The musical has won the hearts of many since its premiere in 2013.
The reaction of the audience may vary when it comes to the arranged version of the songs. But the arrangement has been done fairly well. Kim Kwang-seok's songs, which have emotional highlights based on a generally sad atmosphere, are played in the right circumstances according to the story. Some melodies in minor keys are changed into major keys, bringing upbeat sound to the stage. In the scenes, where actors' emotions reach their peak, they added strong beats to the original songs played only on acoustic guitar. The arrangements successfully bring out passion in musical performances.
Actors' group dances and chorus add another charm to the musical. Some 10 actors acting as security guards and soldiers dance powerfully with the background and stage settings changing relatively quickly. Actors singing in chorus are another attraction of the musical. By singing in chorus, actors' weaknesses sometimes reveals when singing the original version of the songs or without instrumental accompaniment are offset. When two or more actors sing in chorus, it gives a grand feel to the song.
It may not be easy to understand the story, which travels through time and space, but actors and stage effects help the audience get the message. The musical also makes the audience laugh and cry with bits of humors here and there.
pep@donga.com