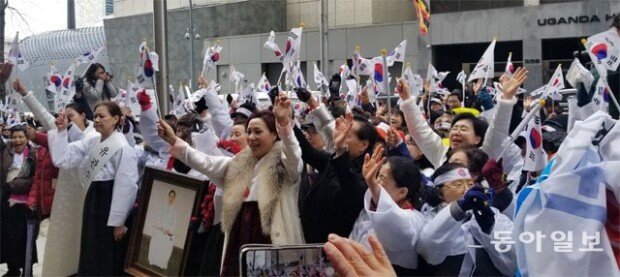 Wearing the Korean traditional attire hanbok with the Korean national flag called the Taegeukgi in their hands, around 400 Korean residents in the United States gathered on March 1 at Dag Hammarskjöld Plaza in front of the United Nations headquarters in New York to celebrate the 100th anniversary of the March 1st Movement.
When the clock bell rang at precisely 12 p.m., a variety of celebrations were displayed with the bass drum sound, the ensemble of the Song of the March 1st Movement and the recitation of the Korean Declaration of Independence resonating across the square, adding more heat to the celebratory event. Being chilled to the bone with the temperature below zero, participants remained full of ever-scorching passion.
People filled in the square chanting 'Manse! Manse! Manse!" led by Yoo Hye-kyung, the granddaughter of Yoo In-seok, whose sister is independence activist Yoo Gwan-sun against Japanese colonialism. Yoo said that she was honored to join a chanting event in New York in commemoration of her ancestor.
Hosted by the Korean American Association of Greater New York – chaired by Kim Min-sun, the commemorative event of the March 1st Movement was attended by Korean government officials including Korean Consul General in New York Park Hyo-sung, Korean-American army cadets at West Point and students of Ewha Girls' High School where Yoo Gwan-sun studied. The Sejong and South Chungcheong Province branch of the Korean Women Entrepreneurs Association and Cheonan city officials, who provided hanbok and Taegeukgi for free, joined the event to encourage the participants.
Park Yoon-sook, 72, said in excitement that she felt moved by chanting for independence in the heart of New York 46 years after immigrating to the States. She recalled the patriotic spirits of Yoo Gwan-sun who waved the Korean national flag for her home country at the age of 16.
Meanwhile, there have been some moves within the United States to commemorate the sprits of the March 1st Movement. New York State became the first U.S. self-governing body in January to adopt resolutions in commemoration of Yoo Gwan-sun and Korea's independence movement and designate March 1 as the Day of the March 1st Movement. At the Washington federal congress, Representative Grace Meng (D-New York) and Representative Rob Woodall (R-Georgia) introduced a resolution to celebrate the 100th anniversary of the March 1st Movement.
The resolutions assessed that the basic principles of people's self-determination, human rights and non-violence enshrined in the March 1st Movement had cross-globe impact on activist movements such as the non-violence movement led by Indian political and civil rights leader Mahatma Gandhi.
Yong Park parky@donga.com