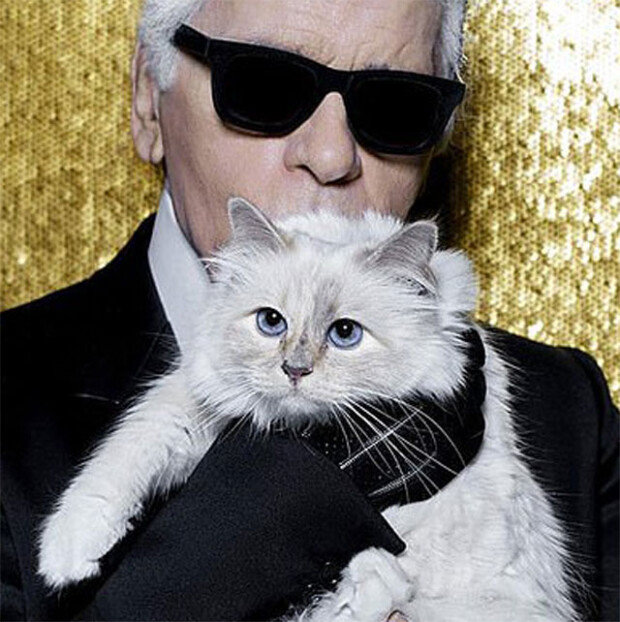 "Choupette will become a more famous figure than I am when I am dead." The remark was made by Karl Lagerfeld who died at the age of 86 on Feb. 19. Choupette is his 8-year-old pet. The blue-eyed Burmese cat is currently gaining a lot of attention as some talk of a possibility of this white fur pet with milky coffee color ears becoming the sole heir to Lagerfeld's fortune worth 200 million dollars or 220 billion won. As a lifelong single, Lagerfeld has no direct descendant, ancestor or sibling to hand his fortune over to, which makes people expect Choupette, which had accompanied him since 2011, to be the only family member of his.
Choupette was sent to Lagerfeld by Chanel's male face Baptiste Giabiconi, becoming known as a famous source of inspiration to the chief designer. The cat earned as much as three million dollars in 2013 alone by appearing in commercials to promote beauty products of Japanese make-up artist Shu Uemura and German automaker Opel. When an offer was proposed on a cat food commercial, it was said that Lagerfeld rejected it citing that his cat was too sophisticated for that.
Lagerfeld's cat is pampered with the help of a security guard, two housekeepers 24/7. She even has her own Instagram account. It has been reported that she eats special cat food with king crabs, smoked salmon, and caviar in it on a silver plate. Even Anna Wintour, the editor-in-chief of Vogue, once said, "I have often thought that in my next life, I would like to come back as Choupette."
It is an exaggeration that the cat is the sole heir to Lagerfeld's fortune. In his interview with French magazine Numero back in April 2018, Lagerfeld said that his cat is just one of his multiple heirs, making it clear that his inheritances would be evenly distributed to each of them.
Chae-Hyun Kwon confetti@donga.com