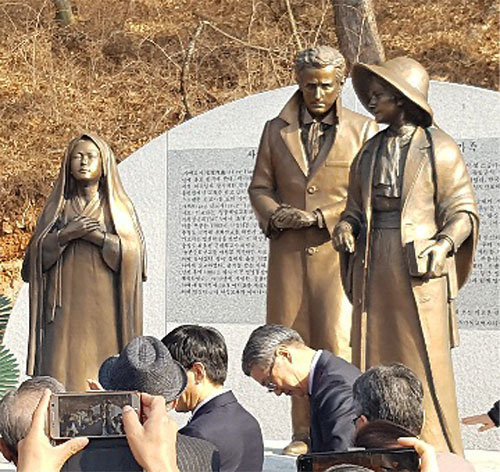 The statues of Alice J. Hammond Sharp, who is known to have taught Yu Gwan-sun, an iconic figure in Korea's independence movement, were unveiled in Gongju, South Chungcheong Province, at 3 p.m. Friday. As her mentor, the American missionary encouraged Yu to take modern education and grow into Korea's Joan of Arc.
Produced by sculptor Shim Jae-hyun, a total of three life-size statutes show Sharp and her husband, missionary Robert Sharp, looking at Yu, wearing a veil, a Korean traditional jacket and skirt, seemingly in the midst of her prayer.
The unveiling ceremony and the commemorative service were attended by over a hundred people including local residents and Seo Man-chul, head of the Korea Missionary Remains Research Society; Jeong Yeong-hee, pastor of Pasadena Dream Church; Lee Seong-eun, head of the Korean Methodist Women's Society of Christian Service of the United Methodist Church in the U.S.; Kim Jeong-seob, Gongju Mayor; Chung Jin-suk, a representative of the Liberty Korea Party; In Yo-han, honorary co-chairman of the Jirisan Christianity Missionary Remains Preservation Alliance; and Jeon Jae-kyu, head of the Korea History and Culture Movement Headquarters.
"The March 1st Movement in Gongju was closely related with the region's missionary. Had it not been for Mrs. Sharp who spent two years with Yu in Gongju, there might not have been Yu Gwan-sun as we know today," Gongju Mayor Kim Jeong-seob said.
"I'm glad to see the commemorative project, which started with people's offering finally bear fruit," Seo said. "I hope Sharp's activities will be more broadly known so that the remains of Christian missionary works in Korea will be registered as heritage at the UNESCO someday."
Born in Canada, Sharp was working for the Korea Missions Association under the U.S. Methodist Church when she moved to Korea with her husband in 1900. She built some 20 educational institutions in and around Gongju, and conducted missionary works across the South Chungcheong region. Meeting Yu in Cheonan four years later after her settling in Korea, Sharp taught her for two years and helped her to enter the Ewha school in Seoul to advance her education.
It was during the time that Yu learned about Joan of Arc and awareness of independence. Sharp retired from her job in 1939 and returned to the United States, and passed away in 1972 at the age of 101 at a nursing home in Los Angeles.
Protestants both in Korea and the United States raised a fund worth 350 million won to establish the statutes. Following the service on Friday, a concert was also held under the theme of the meeting of Yu and Sharp.
Myung-Hun Jee mhjee@donga.com