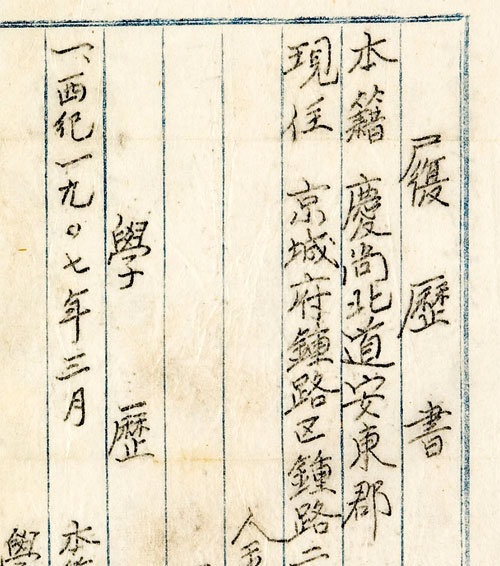 The real-life person that inspired the role played by Gong Yoo in the movie "Age of Shadows" was Kim Si-hyun, a Joseon activist dubbed the "Resistance of Korea." In 1923, Kim was arrested in Daegu along with Hwang Ok and sentenced to 10 years in prison while trying to get hands on bombs to attack the Japanese Government-General of Korea. He organized an independence alliance in 1931 before being sent to prison in Nagasaki, Japan and serving time for five years. After Korea was liberated, Kim served as member of national assembly and tried to assassinate former President Rhee Syng-man for believing him to be suspect behind the murder of Kim Gu, the last premier of the country's provisional government, but failed. He received a death penalty, which was commuted to life sentence, but he was set free after the April 19 Revolution.
His writings are primarily comprised of straight lines, with the edges being notably angular. This means he had a strong will and honest personality. The drawn-out end strokes seen from small letters including "事" (sa), "也" (ya) show characteristic of a person with strong will and determination. The narrow space seen in the letters indicates that he had a strong confidence with a tendency of self-judgment. Strong pressure is applied to his writing, and his rectangular letters are easily associated with his integrity.
Kim Si-hyun's writing is differentiated from typical social activists. Vertical lines are shorter, and the bottom part of letters such as "同" (dong) is larger than the upper one, which says penchant for stability rather than working up courage. The amount of space is kept large, and the edges are note steep, which points to his careful personality avoiding bothering others at any cost. His small letters are indicative of his meticulous and careful personality as well as humility and cautiousness. The first letter is small, which is far from ambitiousness. His sense of resistance must have been a fight against injustice rather than innate.
The man devoted his life to his country's liberation and spent decades in prison, but unfortunately, the honor of National Foundation Merit did not belong to him owing to the attempted sniping at the former president. It is regrettable that Kim is just remembered in the heart of our nation.