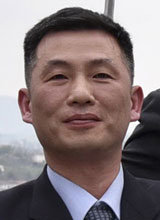 The political circles in Italy went uproar at the news that the daughter of the former North Korean acting ambassador to Italy Jo Song Gil, who had been reported missing since November last year, had been forced to return home to her home country.
Italy's Ministry of Foreign Affairs confirmed the news on Wednesday, which was first brought to media attention in Shin Dong-A Ilbo's exclusive interview on Monday with Tae Young-ho, former North Korean diplomat to Britain, who said, "Jo failed to take his daughter, while escaping with his wife. His 17-year-old daughter was transported to North Korea."
"If the forced repatriation is true, it would be a grave matter unprecedented in scale. Those responsible for this will pay," Five Star's Manlio Di Stefano, under-secretary at the Rome foreign ministry, wrote in a social networking post. "Italy should have protected Jo's daughter, who may be tortured by one of the worst regimes in the world." The Italian foreign ministry confirmed the report after its undersecretary raised the issue.
"We received an official letter from North Korea on Dec. 5 last year that Jo and his wife had left the embassy and his daughter returned to North Korea on Nov. 14," said the Italian ministry. The Five Star Movement's pressure to the government has dramatically increased since.
Meanwhile, former Italian Senator Antonio Razzi, who has close relations with North Korea, said that the daughter was not kidnapped or repatriated but simply normally sent to Pyongyang and she is happy staying with her grandparents, supporting North Korea's clarifications. "She is a child and suffers from disability," he insisted. "It is likely that her parents would have given up the idea to take her along, considering the consequences of going into hiding."
Jung-Min Dong ditto@donga.com