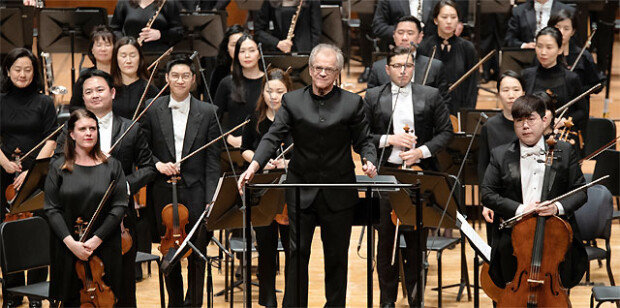 On Friday, the second day of the "Sibelius Special" concert by Seoul Philharmonic Orchestra (SPO), the floor of the Concert Hall at the Seoul Arts Center was covered with snow. Regarding the opening of the Symphony No. 6, Finnish composer Jean Sibelius (1865–1957) once said it reminded him of the "scent of the first snow."
Famed Finnish conductor Osmo Vanska offered the most individual interpretation of Sibelius' most powerful, well-known piece "Finlandia" to Korean audience that night. The Sibelius specialist highlighted every note played by woodwinds and string instruments in the second section of the opening, while lowering the volume in the hymn section, where string instruments take over from woodwinds, in order to strengthen the clear and simple aspects of the ensemble.
Yang In-mo played the Violin Concerto in D minor in a more compact and sharper way. The Korean violinist picked up in tempo in every movement and bowed fast, using the entire fiddle bow to play the melody, which has been interpreted as slow and deep, in the second movement. It was slightly different from other violinists' interpretation, in which they highlight the loneliness felt in the northern region by bowing slowly and making a deep and full vibrato. Some might raise a question on whether he expressed the "Sibeliusness" in his performance that night. The volume was not as loud as expected, but his solo was not drowned by the orchestra. In other words, although the volume was not drowned by the orchestra, it was not as loud as I would have liked it to be.
Going into the latter part of the concert, Vanska showed his true characteristics in the Symphony No. 6 and No. 7. The first movement of the Symphony No. 6 was not as dynamic as it is supposed to be, but the ensemble got exquisite as it progressed. There were also incredible moments, where the full sound of the woodwinds was met with sharp and clear sound of string instruments.
Vanska's left and led the ensemble. The beautiful serenade at the end of the fourth movement of the Symphony No. 6 was a moment that will not be forgotten for years. There was a bit of dissonance between strings and woodwinds at the end of the Symphony No. 7, when the dance section kicks in, but the subsequent ensemble and excellent string skills were sufficient to make the audience hold their breath in anticipation.
gustav@donga.com