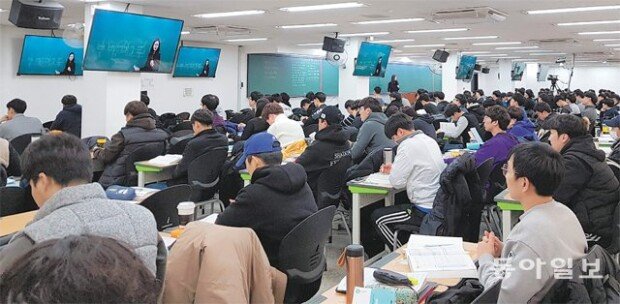 The Los Angeles Times pointed out on Wednesday (local time) that passing the public service exam in Korea requires greater competition than getting accepted to Harvard, one of the most prestigious U.S. universities. As of last year, the acceptance rate of the Korean public service exam was 2.4 percent, or 4,953 out of around 200,000 participants. Meanwhile, Harvard's acceptance rate was 4.95 percent last year.
More young Koreans rush for a job in the public sector, which is hit less hard by economic recessions, citing that the Korean economy grows slow and competition with China deepens in export-driven industries, according to the newspaper.
The newspaper also said that the craze for government jobs is partly attributable to the great gap in job quality between large companies and SMEs. "Those without the impressive resumes increasingly needed for jobs at the top companies — internships, perfect grades, proficiency in a foreign language or three — are turning to civil service exams," it reported.
"Many young people in South Korea say they don't expect nongovernment job prospects to improve anytime soon despite a host of measures announced by South Korean President Moon Jae-in nearly a year ago to boost employment, including government stipends to companies," the newspaper said.
Separately, The South China Morning Post diagnosed Korea as an over-educated society. Koreans are trapped with a never-ending studying cycle where college-bound students vie for acceptance to top-class universities; young Koreans compete to get a job in the public sector or work in large companies; and employees continue to study to get a promotion.
Sociology professor Shin Gi-wook at Stanford University expressed his concerns in SCMP that Korea's obsession with education makes it harder for young people to get fully prepared to make their way into society.
jetti@donga.com · wizi@donga.com