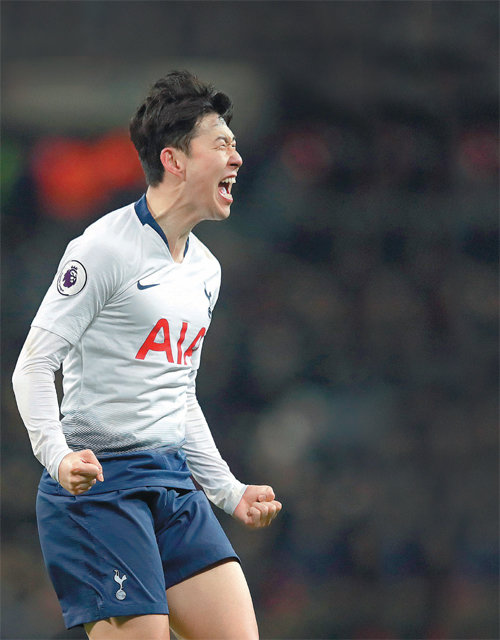 South Korean forward Son Heung-min of the Tottenham Hotspur roared with his fist up after scoring with a powerful left-foot shooting that could have torn through the net. He looked different than other scoring moments when he used to dash toward fans or teammates with a big smile.
He showed the new goal ceremony at Tottenham's match on Thursday after returning to the Premier League club following South Korea's exit from the Asian Cup. The 27-year-old scored an equalizer at 80 minutes in Tottenham's 2-1 win over Watford FC at Wembley Stadium in London. It was his ninth league goal of the season and thirteenth this season. If Son scores one more goal, he will have double-digit scores for the third consecutive seasons. BBC, which picked him as the "Man of the Match," said his energetic performance was surprising, although he had just returned to Tottenham from the Asian Cup duty in the United Arab Emirates.
He returned to Tottenham on Saturday. Thursday's match was his first starting one in six days after the Asian Cup quarterfinal, he showed far better performances than with the Korean national team. He has not fully recovered, though. Tottenham manager Mauricio Pochettino said Son had some cramp at the Watford match.
Son has to maintain his scoring senses in order to help his team, which is ranked third in the league, to be able to compete for championship. "I missed my teammates as much as they missed me," Son said. Pochettino indicated he will continue to give him important roles. "I'm happy he's back," the manager said. "We're going to see if he can recover for the next game. If he's ok maybe he's going to be in the starting 11."
Yun-Cheol Jeong trigger@donga.com