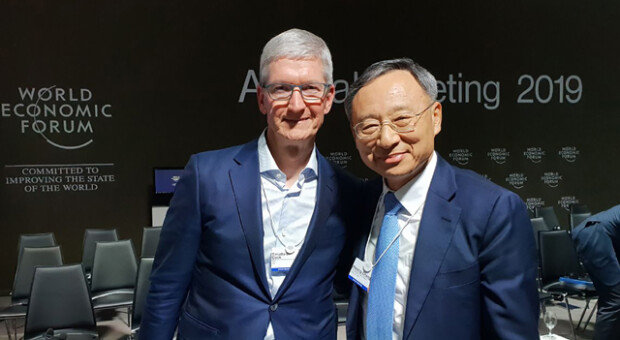 KT Chairman Hwang Chang-gyu expressed confidence in South Korea's fifth-generation (5G) technology at a meeting of the International Business Council (IBC) of the 2019 World Economic Forum held last Friday in Davos, Switzerland. He noted that the country is set to launch commercial 5G services in March for the first time in the world, and that South Korea possesses better 5G technology and infrastructure than the United States and China.
The IBC is a community of 100 chief executives from all industries around the world, and Hwang, invited by Klaus Schwab, founder and executive chairman of the World Economic Forum, was the only one representing a Korean enterprise at the meeting.
"Even chief executives of the world's leading companies seemed to be ignorant of the power of 5G technology," Hwang told reporters. "They were thinking that the United States and China were leading 5G technology, so I volunteered to make a remark and explained South Korea's 5G leadership for about five minutes."
"South Korea has prepared for advanced 5G technology such as artificial intelligence (AI), robots, and block chain, since four years ago," Hwang said. "If commercialized, the technology will allow us to remotely control all machines in the world in less than a tenth of a blink of an eye.
Stressing that the manufacturing industry will be most affected by 5G technology, Hwang explained that "Robots will function like humans. Hyundai Heavy Industries and POSCO have already introduced 5G technology in the trial operation of a smart factory, and it boosted productivity by 40 percent while the defect rate dropped by 40 percent." The CEO added that KT is leading the global standard in 5G as seen in the successful provision of 5G trial services during the PyeongChang Winter Olympics and that the company will be able to receive patent fees following commercialization.
"5G was designed to provide the most affordable and convenient services to people in all industries," Hwang said. "It will promote great innovation across society including self-driving vehicles, telemedicine, disaster management and safety, and energy." While 4G enabled "B2C" services based on consumers, 5G is close to "B2B" and "B2G" services, with 90 to 95 percent of customers being businesses and governments, Hwang elaborated.
In line with this, Hwang said that the company would launch a "Skyship Project" to deliver via drones medicine and medical supplies including vaccines to developing countries with poor traffic conditions. He said that the drones are suitable for conveying vaccines as they are capable of flying the distance of 200 kilometers for around six hours and carrying refrigeration facilities unlike existing drones.
"The biggest threat to 5G is security," Hwang said, adding that the company will unveil its new security technology it developed next month. "Many people seem to be concerned about consumer fees for 5G services, but we are planning to maintain the similar level of fees as 4G services."
Jung-Min Dong ditto@donga.com