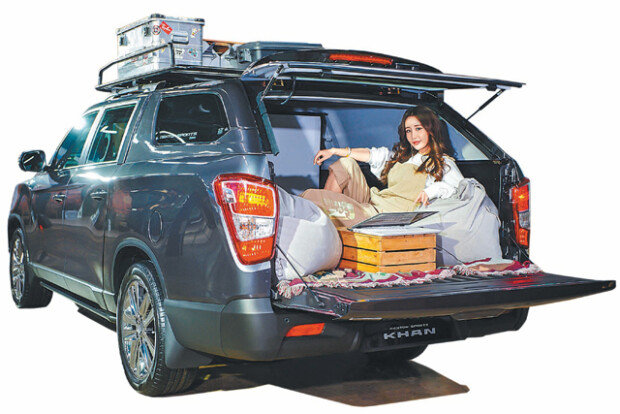 "Life is short but deck (deck trunk) is long."
This is a phrase that caught this reporter's attention while browsing through catalogues on the day of the media trial ride event of Ssangyong vehicle's Rexton Sports Khan on last Monday, contemplating on how to write a fun trial ride. The Rexton Sports Kahn is especially manufactured for customers who desire to enjoy leisure and traveling. This reporter was aware that Ssangyong invested efforts on the loading space but it made me wonder what was so special about it to compare it to life.
The vehicle industries mark trunk capacity with liter. The capacity of a trunk differs depending on the way it is measured. Most companies demonstrate the size of their capacity with how many 1 L sized bricks can fit into a trunk. The loading capacity of the Rexton Sports Khan is 1,262 liters. That is, 1262 bricks can fit into the vehicle. It is, however, not so meaningful to estimate the trunk space with numbers. Even if a trunk shares the same capacity as other trunks, utilization becomes different based on how the trunk is designed. That is why this reporter decided to write a trial trunk ride. As much as the vehicle is for leisure, I decided to present the trunk in its true perspective by finding out how big the trunk is to camp and eat, not to mention how to use it.
From opening a small table and eating in the trunk to using it as one's own space by decorating it as resting space, the trunk may be used in diverse ways. In particular, people will be able to use electronic devices as there is a battery cord (12V-220W) next to the trunk door. The four hooks (connecting loops) on the trunk could also be used as an anchor.
Khan is divided into two models; 500kg and 700kg models depending on the maximum loading capacity. In the case of the 500kg model, it can accommodate five people with a 10kg luggage. The 700-kg model is called the "power lift suspension," which with mounted with a structure that can endure the maximum weight better.
At the trial ride event on that day, people were able to experience a road with bumpy jagged stones all over and off-roads such as steep hills. Of course, there was no problem in driving as it was indeed a trial drive event. The name of the vehicle was named after Khan, the emperor of Mongol Empire who ruled the largest area in history. It is a vehicle that this reporter recommends to customers who want to enjoy traveling and leisure with large trunk and loading capacity.
bjk@donga.com