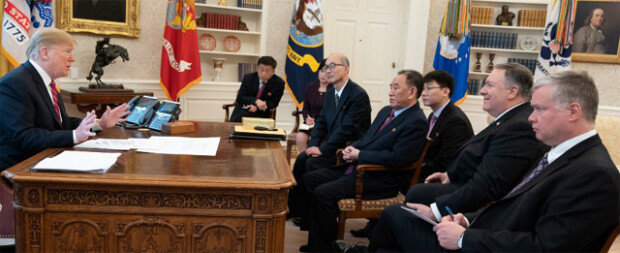 U.S. President Donald Trump has announced its plan for a second U.S.-North Korea summit to be held in late February after meeting with North Korea's nuclear envoy Kim Yong Chol who visited Washington for three days from Friday (local time). The denuclearization roadmap is garnering attention what will be discussed in the follow-up working-level meeting as the denuclearization negotiation kicked off.
"We had a very good meeting yesterday with North Korea. That was an incredible meeting. We've agreed to meet some time, probably the end of February," the U.S. president told reporters at the White House on Saturday." We've picked a country but we'll be announcing it in the future. Kim Jong Un is looking very forward to it and so am I. We've made a lot of progress that has not been reported by the media."
Trump met Kim at the oval office of the White House at 12:15 p.m. Friday. The meeting lasted for more than an hour and a half where Secretary of State Mike Pompeo and the state department staff participated. North Korea's top diplomat delivered Kim Jong Un's handwritten letter to Trump.
U.S. special representative for North Korea Stephen Biegun left for Sweden right after the meeting. He will have a working-level meeting on denuclearization with North Korean counterpart, Choi Sun Hee, until Tuesday and coordinate details for the second summit with South Korea's top nuclear envoy Lee Do-hoon.
"The meeting between Trump and Kim set the framework and details will be coordinated in the meeting in Sweden," said a Cheong Wa Dae insider. "We will compare each other's cards and see if we can reach an agreement."
lightlee@donga.com · weappon@donga.com