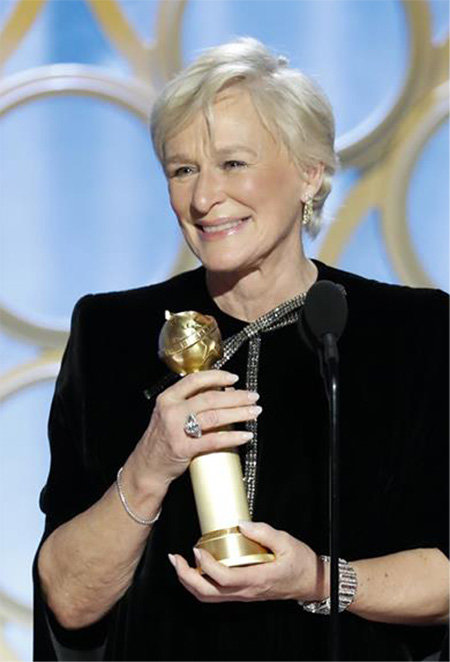 The so-called "granny power" is becoming a sensation in the fields of broadcasting and journalism. We are seeing more and more women actresses in their 60s and 70s taking a leading role in movies and TV series and "granny journalists" being appointed to key posts at media companies.
Glenn Close, 71, won Best Actress Award at the 2019 Golden Globes on Jan. 6. In a rare case for an actress in her 70s, Close bested four younger women to win the award. She received a storm of applause when she said, "Women, we're nurturers. That's what's expected of us. But we have to find personal fulfillment. We have to follow our dreams. We have to say, 'I can do that and I should be allowed to do that,'" in her acceptance speech.
Christine Baranski, 66, who is famous for her role in Mamma Mia, has been starring in the famous TV series "The Good Fight" on CBS since 2017. She is gaining popularity for her role as Diane Lockhart, a dispassionate and intelligent lawyer, who acts as a mentor to junior associates. In particular, her love story is one of the main materials of the series. The series focus on the love life of Lockhart, giving a fresh boost to the program.
CBS announced on Jan. 6 that Susan Zirinsky, who has a 47-year career in journalism, would become president of CBS News. The 66-year-old journalist has become the oldest and the first female president of the CBS News. She entered journalism as a clerk of the CBS Washington branch in 1972 when she was a sophomore at American University. She won a name as a war correspondent covering the Gulf War and has been the executive producer of 48 Hours since 1996. When some people worried that she might be too old to serve as the president, she said, "I have so much energy that my staff did an intervention when I tried a Red Bull."
Katie Couric, 62, who drew attention by becoming the first female anchor of a nightly news program in 2006, showed her support for Close and Zirinsky. Couric wrote on her social network page that she was touched to see the experience and wisdom of Close and Zirinsky being respected. She added, "Bring it on. Let's have more of this."
Lesley Stahl, 77, who had a combative interview with President Trump on CBS in October last year, and CNN anchor Christiane Amanpour, 61, are working actively in their areas regardless of their age.
chan2@donga.com