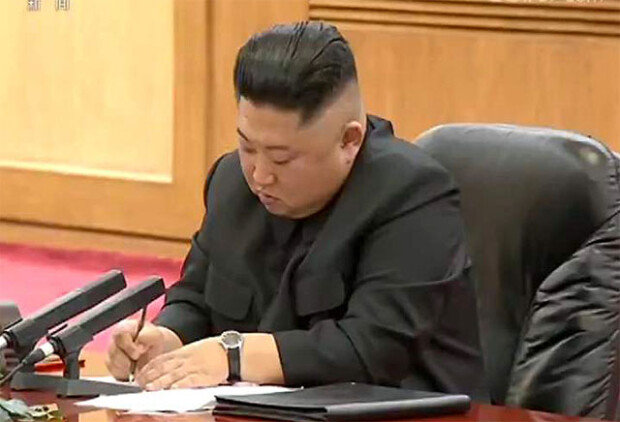 The state-run Chinese Central Television (CCTV) on Thursday repeatedly showed footages of visiting North Korean leader Kim Jong Un nodding and taking notes as Chinese President Xi Jinping was speaking as if to associate the scenes with a student taking note of what his teacher is saying.
CCTV showed four such footages, when the news anchor quoted Xi as saying that the two sides agreed to make joint efforts to constantly advance the political settlement process of the Korean Peninsula issue and that Xi wants to push for continuous new development of Pyongyang-Beijing relations in the new era. CCTV did not air the two leaders' actual voice making the remarks. It seems that Beijing wanted to use its state-run media to produce scenes in which the North Korean leader looked as if he had been reporting his plans for the expected summit with U.S. President Donald Trump and taking instruction from the Chinese leader.
By contrast, the Chinese TV showed Kim Jong Un reading a script with his head down, as he was saying that Pyongyang appreciates Beijing's "important roles" in easing tensions on the Korean Peninsula, seemingly to give the impression that Kim was reporting to Xi.
When Kim expressed his gratitude for Xi's accepting his visit despite a busy schedule, CCTV quoted Kim as saying that the Chinese leader's "guan huai" has elevated the bilateral ties to a new and higher level. "Guan huai" refers to care and considerations a senior person takes toward his juniors.
Wan-Jun Yun zeitung@donga.com