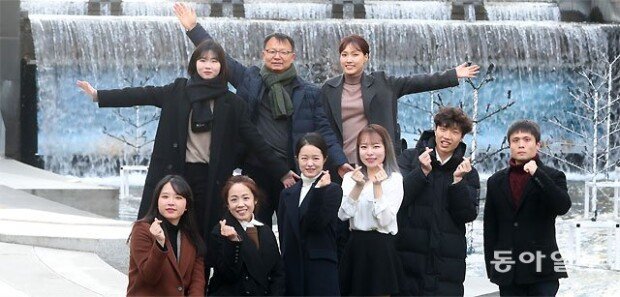 Jang Hee-won, 25, a nouvelle writer, burst into tears after hearing that she became an awardee at a family gathering in celebration of her grandmother's birthday in Daegu. Her grandmother cried beside her. Soon, the grandmother realized why her beloved granddaughter was crying. She bowed toward Jang with her hands raised up in excitement and joy. "This may be the best-ever birthday present for my grandmother," Jang said.
Among a total of 2,345 applicants applied for the 2019 Dong-A Ilbo annual spring literary contest, an increase of 85 from last year's, nine literary talents were awarded honor. They said in one voice at Dong-A Media Center on Wednesday, that they feel a sense of responsibility on their shoulders, as heavy as a bag of joy and happiness they feel.
Min Hye-kyung, a 40-year-old children's book writer and a mother of two sons in elementary school, heard of the contest result at a book talk meeting with her son's home room teacher and parents of other children. As she was not able to come home with excitement, she walked around her neighborhoods. It was hard to believe that it was for real.
Min applied for many writing contests for several years but to no avail. Every time she was frustrated, her 8-year-old son gave her a paper award and prize money of 600 won. "My sons console me that they find my book stories fun and intriguing," she said. "They are my emotional rock."
Choi Sang-woon, 34, a play writer, heard that he was selected among the awardees while reading a book written by U.S. novelist Thomas Pynchon in a neighborhood library. All kinds of thoughts disturbed his mind at a moment he was walking out to the hallway to get a phone call. He worried about what could have been wrong with his piece of work. However, his mind was suddenly overwhelmed by a panorama of the past painful days spent in his room, he confessed. Choi said that he was at a loss for world when he heard the news.
Kang Dae-seon, 48, a traditional three-verse Korean poem writer, teaches Korean at Gwangju Girls' Commercial High School. Kang was so excited about the news that indescribable levels of joy filled in the mind, feeling an urge to shout in excitement toward the playground.
Ko Ji-ae, 31, a scenario writer, squeezed her time to write while working as a reading room manager. "People around me told me to get a job and make a living. However, I did not give up," she said. "When I realized that I made it, I shouted 'I did it!' in extreme excitement."
As Park Da-som, 29, practiced literary criticism for several years, she waited for the day to come by writing an awarding speech in advance. "I did not tell my husband that I applied for the contest, making me much more nervous and jittery," Park said. "I used to talk to myself. Someday I can make it, showing my piece to the world. I hanged in there."
The awardees said in humble way that their pieces of work are not worth an award. Sung Hae-na, 24, a novelist, said that the winning of the award is more of a burden for a newbie writer, feeling afraid of the days to come. She has not yet told her friends that she won the award. Kim Chae-hee, 29, a film critic, said that she was driven into deep frustration when she realized that nurturing her own thinking system is a daunting task to be done, promising to work harder and learn more.
Choi In-ho, 31, a poet, signed up for a computer programming class as he found it not easy to get a job as a Korean literature major. He said that he felt that it was easier to write when he was goofing around than while working hard. He is afraid of stopping penning poems when some satisfaction consoles him. He makes sure that he empties his mind so that he can feel relaxed while writing, he said.
Jang Hee-won has worked hard to make writing become part of her life by writing at least one sentence every day since she decided to become a writer at the age of nine. Jang said, "I will keep working hard all the time. That is my sole goal."
Yeun-Kyung Cho yunique@donga.com