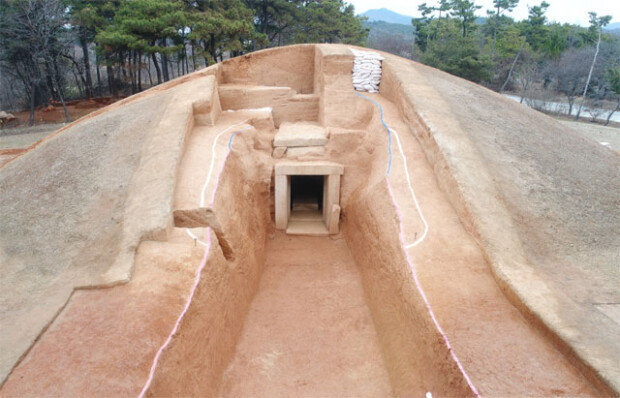 A group of Korean archaeologists have found the longest tomb path among the royal tombs of the ancient Korean kingdom of Baekje in the Ssamgneung (Twin Tombs) in Iksan, North Jeolla Province, which is presumed to belong to King Mu.
The city of Iksan, North Jeolla Province and the Wonkwang University Mahan-Baekje Cultural Research Institute said Thursday that they found a path, which is 21 meters long, up to six meters wide and three meters deep, as a result of the second phase of their excavation of the Daewangneung tomb that began in May this year. The stone chamber of the tomb is four meters wide and gets narrower inside. Choi Wank-kyu, head of the research institute, said that the path in the Daewangneung tomb is three to four times longer that those found in other Baekje royal tombs, arguing that the trait is evidence that a solemn funeral ceremony took place for the tomb's occupant.
Archaeologists have also found that the path was created after the stone chamber was made, suggesting that the tomb's occupant prepared his final resting place before his death.
Won-Mo Yu onemore@donga.com