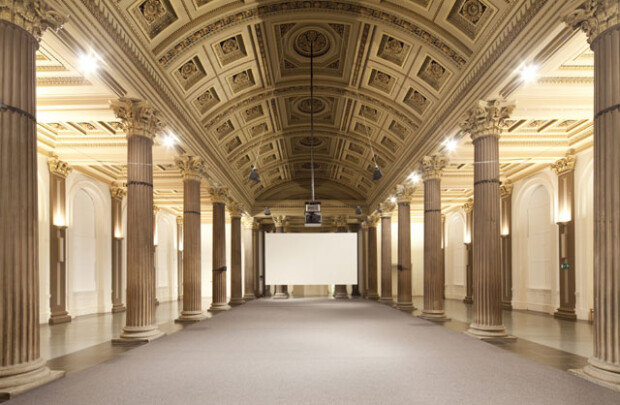 An exhibition was called off right before the opening. The space was of course left empty. Surprisingly, over 100,000 people visited the space for five months. This happened at the Glasgow Gallery of Modern Art (GoMA), Scotland's most visited modern art gallery. The title of this exhibition held from May to October was "This Exhibition is Cancelled."
We visited the GoMA on Nov. 29 and had a talk with William Cooper, the curator of the exhibition. It would have been Dutch artist Marlie Mul's first exhibition in Scotland. The artist had to cancel the exhibition after failed negotiations on the budget with the gallery. After the cancellations, GoMA decided to open the empty space to the visitors.
"Since it was an empty space, I wanted to promote the gallery as a site for community use. Anyone, who wants to use the space, could fill out a form at our website," William said. "Various events, such as drawing class, yoga lessons, and film screening were held at the space. Someone practiced dancing and a photographer was thrilled to take a picture of the inside of the building. It was a success."
In fact, it was a hard decision for GoMA as it is a publicly funded organization. After the art gallery was opened in 1996 after renovating a private mansion of William Cunningham, a tobacco dealer, it has become the hub of contemporary art in Europe. But some criticized the attempt saying it is a waste of taxpayers' money since the GoMA has been struggling from a budget cut from the government. "There has always been a criticism from those who do not understand the value of contemporary art," said Cooper. "I believe that visitors could develop new thoughts on arts even though there weren't any artworks."
An exhibition was canceled right before the opening in Korea as well. An exhibition of Edgar Degas scheduled to be held at Sejong Cultural Center in August was called off two days before the opening due to a delivery issue. As a result, Sejong Cultural Center reopened a folk painting exhibition, which was already held at Seoul Arts Center. "Most art galleries, except for few, experience cancellation of exhibitions," said Cooper. "What is important is to create a cultural opportunity for the audience when there is a cancellation." What are art exhibitions in Korea offering to the audience?
Min Kim kimmin@donga.com