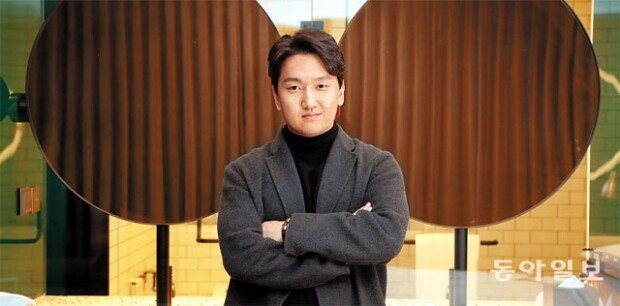 A subway driver's eyes are focus-less. He gazes at a flickering light rounding along the subway line map. A narrative voiceover speaks: "A frog does not notice incrementally rising water temperatures in a pot where he sits."
This film is director Kim Sang-joon's "The Wheel Turns," which won the Best Short Film Prize from the Animation section at the Sitges International Fantastic Film Festival, the world's largest genre film festival held in Spain. The 32-year-old director became the first Korean awardee of the ceremony with his first work. He had an interview with the Dong-A Ilbo at a hotel in Mapo District, Seoul.
His movie depicts city dwellers getting tired to become soulless, which turned them into frogs, and trying to transform back into human beings. It tells urbanites to wake up, well received by critics thanks to sci-fi settings and dramatic qualities. One of the judges gave him a pat on the shoulder, saying that the movie was undoubtedly incredible.
"The Wheel Turns" was inspired by his working experience with famous U.S. computer graphics firm Framestore, which produced the film "Gravity."  
"I used to pull an all-nighter at work. Looking over the window of the subway car, I suddenly saw a person coming into a red door. It got me wondering if I could find what I really want when I open that door," Kim said. "The imagination became a source of inspiration."
Next year may see his film visit Korean audiences. He attended School of Visual Arts, New York City. He joined Irish singer-songwriter Björk's Lionsong music video, which was part of a special exhibition at the Museum of Modern Art in New York.
"The scene of her arms and legs stretching out was devised based on my idea," he said. "I came up with some visual effects for the scene where blood sheds and intestines burst out in Netflix's latest soap opera 'Maniac.' I usually awful cruelty to scenes."
He joined the staff team for director Kim Ji-woon's film "Doomsday Book" as an undergraduate, started dreaming of producing his own movie. He prepared the production of "The Wheel Turns" six years ago while working a full-time job. Asked if he got exhausted when working and filming the movie, he said that such hardships made him rise stronger and work harder to compensate for his hard work.
As a winning film of the Sitges International Fantastic Film Festival qualifies for the U.S. Academy Awards, it is worth expecting Kim's film to join the Oscar Awards. He said that it is happy news but he wants to focus more on a next production.
"My next movie will depict people changing into being selfish in dreary city life. I hope it will get finished in a few years," Kim said. "I am looking forward to showing it to Korean fans as soon as possible."
Min Kim kimmin@donga.com