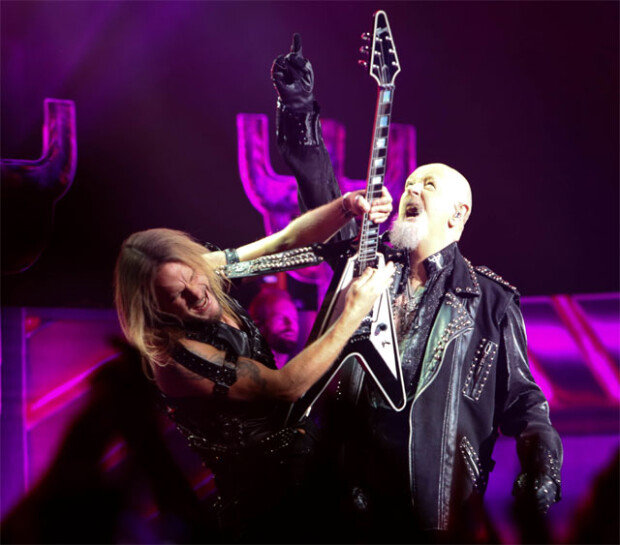 While Queen is remembered as a legend, Judas Priest is a living legend. Judas was formed in 1969, a year earlier than Queen. While the latter started with the genres of rock and heavy metal to later embrace opera and disco, the former walked a single path of metal music. If Queen is "a Legendary Band," Judas would be named "Metal Gods."
On Sunday evening, Judas held a performance in South Korea. This was the third time that the band's members visited the country, including Rob Halford (vocalist) and Ian Hill (bassist) who are 67 years old this year. As he always does, Halford ran up the stage on a motorcycle in the middle of Sunday's performance, and literally became a Metal God who appears in the lyrics of the band's song Painkiller: A savior that comes from out of the skies, in answer to their pleas, faster than a bullet, rides the metal monster.
The history of Judas is likewise dramatic, with some parts of it turned into a film. The film "Rock Star," released in 2001, is based on the dramatic story of how Tim Owens started as the vocalist of a band mimicking Judas and ended up temporarily replacing Rob Halford as the vocalist.
In Sunday's final encore, a man wearing a hat silently came out on to the stage with a guitar: Glenn Tipton. The audience watched in awe as Halford and Tipton played Judas' classic tracks such as "Metal Gods" and "Breaking the Law."
imi@donga.com