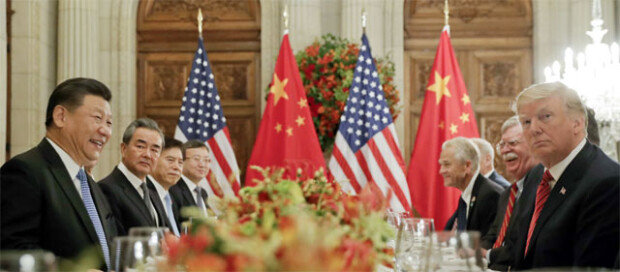 The world's two superpowers have agreed on a 90-day trade war truce, lowering the temperature, albeit temporarily, in a conflict that has spooked world markets facing slowdown.
The agreement was hashed out during dinner talks between U.S. President Trump and Chinese President Xi Jinping held in Buenos Aires Saturday (local time), which lasted two and a half hours. Both sides called it a "highly successful meeting," according to a statement by White House spokeswoman Sarah Sanders. This was the first time since Trump's visit to Beijing in November last year that the two leaders met with each other.
Following the meeting, the White House announced that it will keep the tariffs against Chinese imports worth some 200 billion dollars at the current 10 percent level, shelving its earlier plan to raise the tariffs to 25 percent from the start of next year.
In a press conference after the summit, China's Foreign Minister Wang Yi said that the two sides agreed to open market to each other and that China, through the process of its opening-up, will work to gradually resolve legitimate concerns held by the United States.
Yong Park parky@donga.com · Wan-Jun Yun zeitung@donga.com