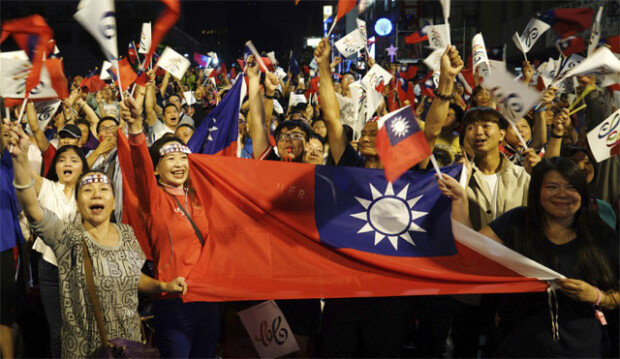 Analysts say that Beijing's economic pressure was one of the key factors in the landslide defeat of the ruling Democratic Progressive Party (DPP) to the rival Kuomintang (KMT) in the November 24 local elections in Taiwan.
While the number of DPP candidates who were elected in the gubernatorial elections declined from 13 to six, that of KMT candidates who were elected increased from six to 15. DPP also lost the mayoral seat of Kaohsiung, the second largest city and previous DPP stronghold where the party dominated for 20 years, to KMT's Han Kuo-Yu.
Since Tsai Ing-wen assumed the presidency in Taiwan, China reduced the quota for Chinese tourists bound for Taiwan and imposed export restrictions on certain agricultural and fisheries products. China also strengthened the operation of so-called "red supply chain" through which it self-supplies parts and components that were used to be supplied by Taiwan, dealing a significant blow to the Taiwanese economy that is focused on parts supply by small and medium size companies.
"Since President Tsai's inauguration, China has reduced the number of group tourists heading to Taiwan by nearly 40 percent as part of its sanctions. Taiwan suffered especially more damage in the tourism industry," Park Han-jin, chief of the Korea Trade Investment Promotion Agency (KOTRA) Chinese office, said in an interview with The Dong-A Ilbo on Friday.
Beijing also intensified its strategy for Taipei's diplomatic isolation, as evidenced by the number of countries that have diplomatic ties with Beijing, which has declined from 22 at the time of Tsai's inauguration, to 17 this year. The biggest reason voters snubbed DPP in the elections was deterioration of people's livelihoods. As Taiwan's economic dependency on the Chinese Economy is so dominant, with China accounting for 41.1 percent of Taiwan's total export last year, Taiwanese voters chose "practical interests over justification" and "stability over cross-strait conflict" in the wake of Beijing's constant pressure on DPP, analysts say.
When Taiwanese voters elected Tsai after a 10-year rule by former President pro-Beijing Ma Ying-jeou of KMT, watchers already expected a certain degree of cross-strait conflict. The Tsai administration sought to overcome this situation through "New Southern Policy" by increasing exchange with Southeast Asia. However, analysts say that the latest elections have demonstrated that Taipei's opposition to Beijing brings about severe consequences to the Taiwanese economy.
This has been clearly revealed by the withdrawal of support for DPP by young people, who are a significant part of former President Tsai's supporters. "Young people who want to land jobs in China account for 69 percent of youth," said Kang Joon-young, professor of Chinese politics and economy at Hankuk University of Foreign Studies. "As DPP continued to be unfriendly with Beijing amid a high youth unemployment rate in Taiwan, younger supporters chose to dump the party." The youth unemployment in Taiwan came to 12.29 percent in the third quarter of this year, which is far higher than the overall unemployment rate (3.76 percent).
The number of Taiwanese who are engaged in economic activities in the Chinese continent is estimated at more than 1.5 million. Many of them are executives and employees of electronic and electrical parts and components suppliers. A sizable number of people are also engaged in economic activities in China through ways that are not tallied in economic statistics, including operation of paper companies. Business people who are operating businesses in China are so proactive in politics that they even bother to fly to Taiwan to cast ballot during elections to help KMT win elections.
"Exchange at the city level between China and Taiwan will expand," said Ma Xiaoguang, the spokesman for Beijing's Taiwan Affairs Office, told a press conference on Wednesday. "Chinese group tourists are heading to Kaohsiung." He thus indicated that China will seek to pressure the ruling DPP by expanding exchange especially with Taiwanese regions where the opposition party won elections, while concurrently taking reconciliatory measures for pro-Beijing gubernatorial governments.
Seol Lee snow@donga.com