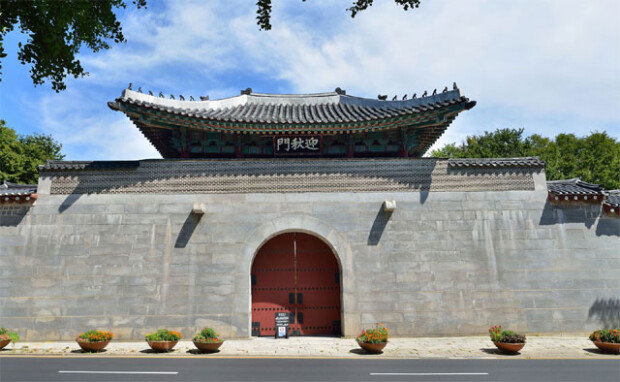 Yeongchumun, the west gate of Gyeongbokgung Palace, will be open to public in 43 years since its restoration in 1975.
The Cultural Heritage Administration on Monday said that Yeongchumun will be open to public from Dec. 6 for the convenience of visitors to Gyeongbokgung and Seochon area and to vitalize the local economy. With the opening of the west gate, visitors will be able to come in and out of Gyeongbokgung Palace from four directions through Gwanghwamun (the main and south gate), Sinmumun (north gate), Geonchunmun (east gate), and Yeongchumun.
Yeongchumun, which was also called Yeonchumun, was mostly used by civil and military officials in the Joseon Dynasty. It was destroyed by fire during Japanese invasion of Korea in 1592 and was restored in late Joseon period under the rule of Emperor Gojong. But it was removed in 1926 when its stone wall collapsed due to the tram line built during Japanese colonial era and was built again in 1975.
"After Yeongchumun was rebuilt, we temporarily allowed visitors to exit through the gate. But this is the first time visitors will be able to come in and out through the gate," an official from the cultural agency said. The admission fee of Gyeongbokgung Palace will be free on the first day of the opening of Yeongchumun and 3,000 won per person from the next day.
Won-Mo Yu onemore@donga.com