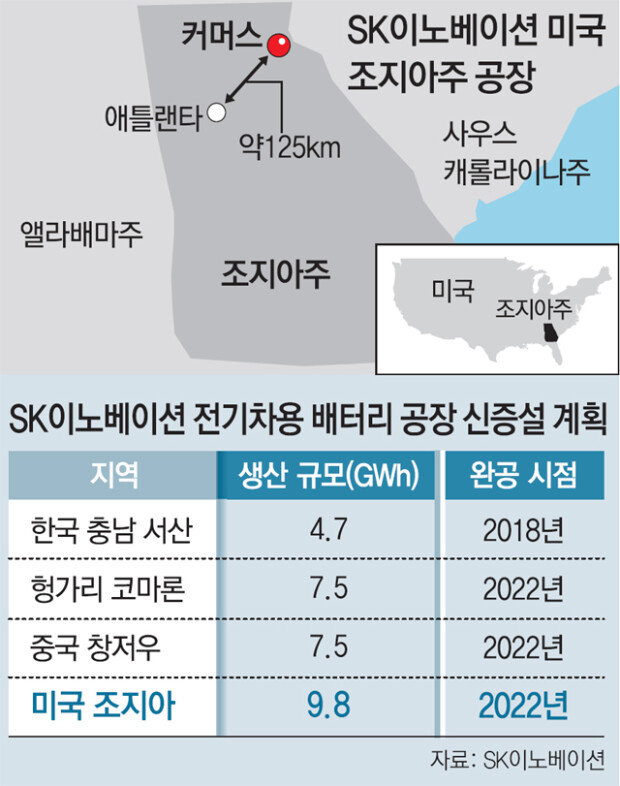 SK Innovation said on Monday that it is investing 1.14 trillion won to build an electric vehicle (EV) battery plant in Commerce City in Jackson County, Georgia, the U.S. This is the second time a Korean company is building an electric vehicle battery plant in the U.S. following LG Chem's battery plant in Holland, Michigan in 2012.
The construction of the EV battery plant, which will be built on a 1.12-million-square meter site, will begin in early 2019 and be completed by 2022. Once the new plant is built, SK Innovations will have manufacturing plants in four key market including Korea, Hungary, China, and the U.S. The geographical position of EV battery plants is critical as it is imperative that EV batteries be supplied timely to the car manufacturers. The southeastern part of the U.S., where Georgia is located, is the largest manufacturing hub for global car manufacturers, including Volkswagen, BMW, Daimler, and Hyundai Motor and affiliate Kia Motors.
SK Innovation is planning to establish SK Battery America to facilitate the construction of the plant and provide funding in installments. The new factory will have a capacity of 9.8GWh, with a projected production of 327,000 high-performance EV batteries a year. The new plant will have over twice the capacity of the company's plant in Seosan. The total capacity of the company's plants will reach 30GWh if plants in Hungary and China, which are currently under construction and set to be completed by 2022, are combined.
In addition, SK Innovation is also planning to build more plants to increase its annual capacity to 55GWh by 2022 to proactively respond to future demands, including its recent deal with Volkswagen to supply EV batteries. Industry experts estimate that thanks to the recent deal with Volkswagen, the company's backlog of orders will reach 40 trillion won, almost half of LG Chem, No.1 player in the domestic industry.
According to a market research firm SNE Research, the global EV market is likely to grow by three times from 6.12 million units in 2019 to 22.13 million units in 2025. "SK Innovation is making a large-scale investment, aiming to make a 'quantum jump' in the industry and increase its global market share," an industry source said.
"We will grow into a global top player in the global battery market, which is viewed as the second semiconductor due to its key role in the global auto industry," SK Innovation CEO Kim Jun said.
Tae-Ho Hwang taeho@donga.com