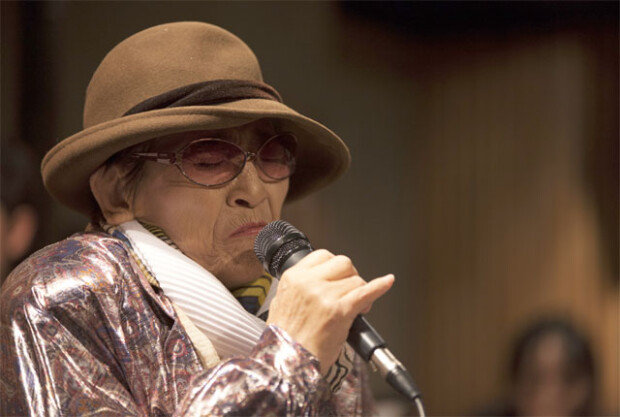 It was the 40th year since Korea's jazz vocal diva Park Seong-yeon opened "Janus," a jazz club, in Sinchon, Seoul. At the celebration performance was Park in a violet dress covered in sequins. "I threw away tens of stage costumes. This is my favorite one for special occasions like today," said Park.
The 75-year-old singer has been going through kidney dialysis for the last 20 years and was hospitalized three years ago. She handed over the club to her jazz singer colleague Malo. "I wanted to keep the stage for my colleagues but I haven't been able to come back since I went to the emergency room," said Park.
She presented a great performance, but said, "I haven't been able to practice, I am sorry for the audience." She is hospitalized in a room with six beds, and she cannot listen to music in the room. The last song was "My Way," and she seemed more like casting up the lyrics than singing. "I always think of a performance as my last. I think about my life when I sing," said Park.
The club has always been in red. It moved several times from Sinchon to Daehang-ro and Cheongdam-dong. Only five to seven people visit the club per night even though tens of thousands of people flock to outdoor jazz festivals. She says her colleague running the club weighs on her mind because it is not making profits. "But I never thought about closing the club," said Park. "I don't have regrets. I am not married, which don't regret. I am thankful," she said when asked if she had regrets. "I am thankful that I have Janus."
The celebration performance continued on until midnight. First-generation jazz pianist Shin Gwan-woong arranged the song "500 Years" into a dynamic jazz song. It is a place full of memories for some people, but not everyone has to know the stories. Janus, a jazz bar with nice atmosphere, is open again today.
imi@donga.com