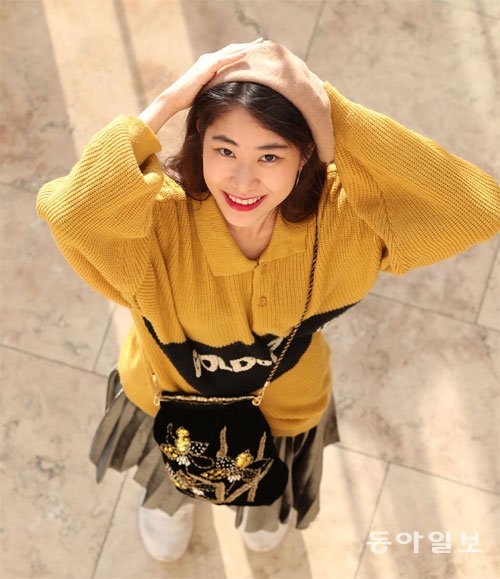 It has been three months since Moon Bo-young started her YouTube channel called "A VLOG of a Poet." The recent video clip starts from sightseeing a wealthy neighborhood nearby. A subtitle is posted; "Another person's reality" in a luxurious house, "my reality" in the dolls squashed inside the claw machine on my way back home. The title of the video, "The Bath of a Pet Pig," which draws curiosity, refers to an image of washing a pig stuffed animal.
The young poet, whom this reporter met on November 2, hoped that this video, which shares the ordinary daily lives of a poet, could become a small opportunity to narrow the gap between readers and literature. The 25-year-old poet, who was once only aware of writers that appear in text books such as Kim So-wol and Han Yong-un, fell in love with poetry after taking a creative writing course in college.
Moon became a poet after two attempts to make a debut but her friend told her that her debut writings were "awful." Even she, herself felt her "somewhat weird liveliness becomes out of control" whenever she thinks about "writing a poem." Writings that appear to be a poem to anyone were sent to literary magazines while those she wanted to believe to be poems although they did not look like one were saved on a computer file called "Dixit" ("Dixit" is the name of a board game that creates stories with picture cards). Moon came across the announcement of Kim Soo-young Literary Awards when some 50 works were saved in that file, and sent her work. She became a poet who received the Kim Soo-young Literary Awards within the shortest period since making a debut. At the end of last year, Moon released her first and award-winning collection of poems called "Book Post."
When asked about how she is different from former generation of writers, Moon answered that she started to distinguish literature from what she knows about life. "I hope that 21st-century writers can earn a lot of money. I dream of a world where a true writer can write poems without having to worry about earning money as he or she has a sponsor," the poet said. "I received laundry detergents and cosmetics sponsorship while I was doing VLOG. I cried because I thought that 'I may be able to write poems without worrying about getting daily necessities."
This is where we can see her "somewhat weird liveliness." When asked about why she write poems, Moon answered that she writes poems not because she knows it but because she doesn't know it.
"When I get rid of what I know about bananas, it becomes a poem, and when I get rid of what I know about love, it becomes a poem. I believe that poems do not give you answers but ask you questions so that people who read poems can always ponder upon it together."
Jee-Young Kim kimjy@donga.com