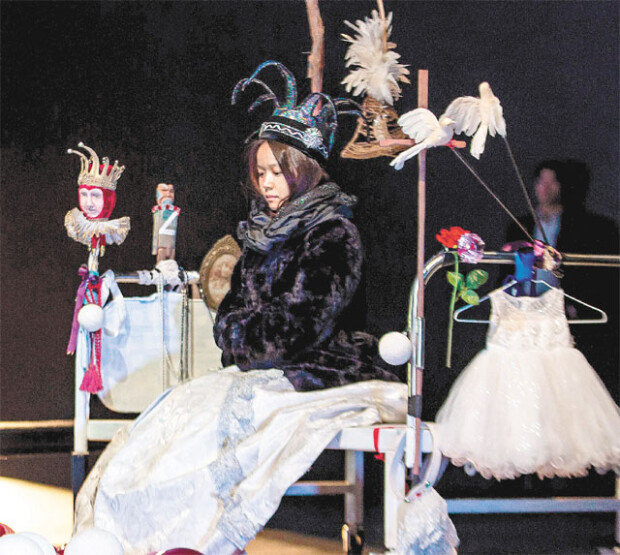 The room is small and dark. The play starts with Nora's (played by Jeong Woon-sun) monologue, making a confession that she forged her father's signature to borrow money for her sick husband. This incident serves as a main conflict throughout the play "A Doll's House" written by Norwegian writer Henrik Ibsen (1828~1906) in 1879. After the monologue, the stage widens and the ceiling rises. Then a giant moon-like light slowly comes down from above, and five actors do a primitive dance passionately.
Ibsen's classic "A Doll's House" sheds light on the issues of women's liberation and gender equality. Ibsen's work is being staged in Korea at a time when gender issues have become a hot potato in the country. The synopsis of the play is the same as its original. The protagonist Nora secretly borrows money for her sick husband. But when her husband finds out how she got the money after recovering his health, he suddenly changes his attitude. After realizing that she was only a "doll" to her husband, Nora leaves her family to move on with her life.
As seen from the powerful opening, experimental direction by the producer Yuri Butusov, the winner of the Russian National Theater Award Golden Mask, stands out throughout the play. The producer has made avant-garde changes to almost every part of the play except for the synopsis. For example, Dr. Rank (played by Hong Seung-gyun) reads the stage direction like a narrator although it is not in its original. "He or she, what is so important about it? It's not like we can choose it," the character repeatedly reads the line, while trying to look into the problem.
The stage setting, lighting, and the props are also significant. The height of the ceiling changes and big pillars rise and come down, raising tensions in the audience. It feels like the characters are confined or locked up in the space. There can be diverse interpretation for the desk, which Nora and other characters sit on when talking about the hospital bed decorated with dolls or other things, or the ice water with which Helmer washes his face and hair.
Nora's decision to run away from home was deemed shocking 139 years ago but today there is nothing shocking about it. This reconstructed modern version of the play keeps asking deep questions beyond women's liberation. "This work asks questions about selfishness, choice, and responsibility as well as gender issues that seem to make progress and retreat again," said Butusov. "A Doll's House" reminds us that reinterpretation of the original can sometimes be the most faithful interpretation of the original. The play will be staged through Nov. 25 at the Seoul Art Center. Ticket prices range from from 30,000 to 70,000 won.
teller@donga.com