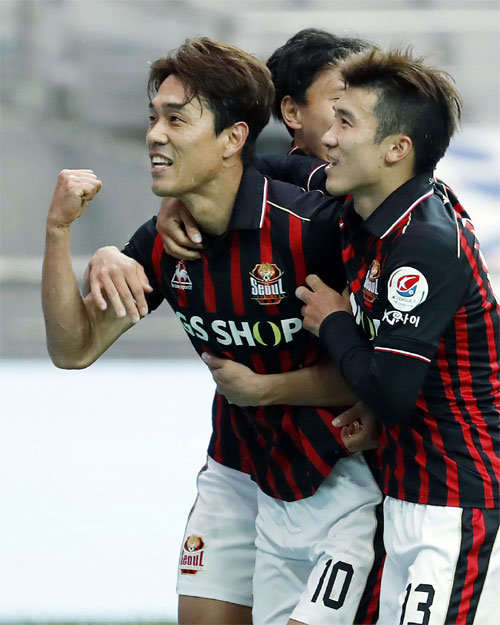 When a referee declared penalty kick through video assisted referee (VAR), FC Seoul players cheered Sunday, while FC Jeonnam Dragons got frustrated and complained about the decision.
The situation happened at overtime after the second half when the score was tying 2-2 at the 36th round match of the K-League Championship at Seoul World Cup Stadium. While trying to stop the ball coming from the left side of the penalty area, FC Seoul ace Park Ju-young got a chance in the penalty kick round to score a goal after a back tackle by Jeonnam defender Lee Ji-nam.
Park's goal allowed his team to secure a first win in 13 matches, and FC Seoul took a sigh of relief in its desperate bid to "escape" from demotion. As FC Seoul, which standing at ninth place, beat the lowest-ranked team Jeonnam 3-2, the team has ended a 12-game losing streak (five draws and seven losses) in 89 days. FC Seoul claimed its last victory at a match against FC Suwon on August 15.
After succeeding his third goal this season, Park hugged FC Seoul head coach Choi Yong-soo to celebrate the win. The head coach successfully led the team's first win since returning to the team's leadership on Oct. 11.
Yoon Joo-tae (28), who returned to his team in September after completing his military service with Sangmu, scored multiple goals, playing a pivotal role in the team's win.
Jeonnam scored two goals through set-pieces and strove to catch up, but failed to add a score after allowing a painful penalty kick in the second round of the game. A Jeonnam soccer fan, who got angered by the referee's decision, ended up jumping into the ground after the game.
It is premature for Seoul to be complacent, however. By winning the latest match, Seoul have luckily avoided lowest rank, but it could slump to 11th place depending on the outcome of the remaining two matches. FC Seoul, whose score points are 40, are being closely chased by the 10th-ranked FC Sangju Sangmu (37 points), and FC Incheon United (36 points). Seoul will face off Sangju and Incheon, respectively in the remaining two matches. A team ranked on 11th will play a match against the winner of the playoff in the K-League 2.
In the meantime, Incheon beat Gangwon 3-2 and Sangju tied with Daegu 0-0, respectively in the 36th round on the same day.
Hong-Gu Kang windup@donga.com