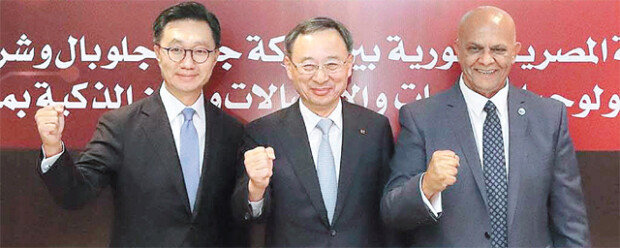 KT showcased its GiGA Wireㅡtelephone line-based internet technologyㅡ technology in Egypt, where the average internet speed is only 5 percent of that of Korea. The company will establish ICT-based KT smart infrastructure at the Suez Canal, which connects Europe and Asia.
The South Korean telecommunications company on Monday (local time) held a memorandum of understanding ceremony in Cairo, Egypt, celebrating the introduction of the GiGA Wire technology, which offers gigabit-speed internet connections. There are limitations on establishing infrastructure like fiber-optic cables as there are many historic sites, such as pyramids and the Sphinx in Egypt. The GiGA Wire technology is a must in order to increase the network speed while keeping historic sites intact in Egypt.
"The ICT industry of a country grows when people's needs are met with network infrastructure," KT Chairman Hwang Chang-gyu said. "Egypt has a thirst for high-speed internet connection as the country has a high proportion of young people in their 20s and 30s in the population. I expect our GiGA Wire solution will help create innovation actors all industries, including distribution, finance, and security."
The 10-billion-won GiGA Wire solution deal between KT and GGTT is meaningful in that it is the result of mutual growth between a large corporation and an SME. KT jointly developed the GiGA Wire solution with UBIQUOSS, its business partner. UBIQUOSS will be responsible for equipment production and technical support in the deal.
"We will introduce 5G wireless technology early next year," Hwang said during a press conference held after the ceremony. "KT will grow beyond a network provider and into a true platform provider."
The 5G wireless technology will serve as a passage that delivers state-of-the-art technologies in the fourth industrial revolution, such as virtual reality, self-driving cars, artificial intelligence, and block chain, to individuals, businesses, and public institutions. While mobile-based businesses mostly focused on "connection," Chairman Hwang is envisioning a future, where a rooftop called "platform" is built on top of various industries, including energy, security, media, and shopping, using the 5G wireless technology.
Dong-Il Seo dong@donga.com