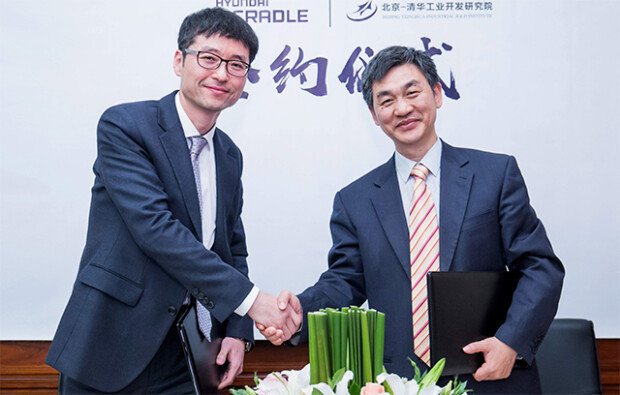 Hyundai Motor is establishing a 100 million dollars (approx. 113.4 billion won) fund to build and increase its presence in the hydrogen ecosystem in Korea and China.
Hyundai Motor has signed a memorandum of understanding (MOU) with Beijing-Tsinghua Industrial R&D Institute (BTIRDI) to jointly establish a "Hydrogen Energy Fund," the company said on Monday. Hyundai Motor and Yield Capital, investment firm under the BTIRDI, will jointly raise and manage the fund. The fund, which aims to raise a total of 100 million dollars, aims to raise capital from venture capitals in Asia, Europe, and North America.
The investment candidates are mostly start-ups in Korea and China that have infrastructure and core technologies in the hydrogen industry. In particular, investments on startups will be more than just an equity investment. The fund will also provide startups with systematic support based on each side's startup incubating programs and corporate venture capital strategies. Kim Se-hun, vice president of Hyundai Motor's Fuel Cell Development department and Zhang Yongwei, secretary-general of China EV100, a leader in China's new renewable energy sector, will serve as fund investment advisors.
Under the agreement, Hyundai Motor plans to strengthen its capabilities in hydrogen-related technology development and create a "Hydrogen Society." Furthermore, the company seeks to grab hydrogen-related business opportunities in China.
The Chinese government established the China National Alliance of Hydrogen and Fuel Cell in February and announced that it would develop hydrogen-powered cars into its new growth engine. The country aims to produce 1 million units of hydrogen-powered cars and build 1,000 hydrogen charging stations by 2030. "We expect the agreement will help become a key player in the Chinese fuel cell electric vehicle market in the future," a Hyundai Motor official said.
Seok-Jun Bae eulius@donga.com