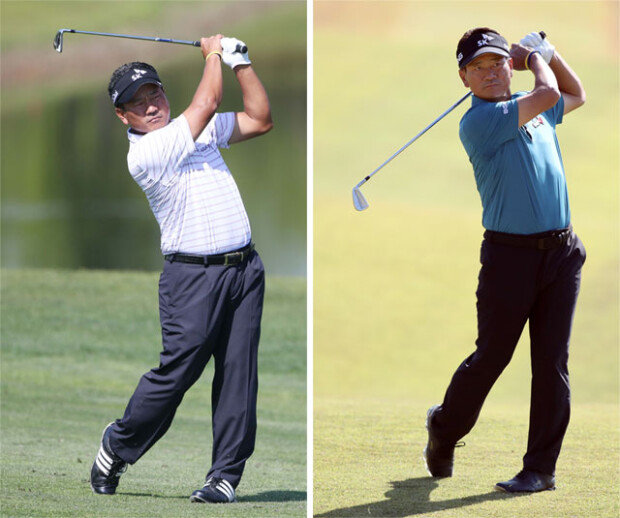 Choi Kyung-ju (SK Telecom) says that the last couple of months felt like decades. Choi applied for sick leave due to backache and fatigue in June, opting out to attend the PGA tour. He was diagnosed with thyroid cancer and underwent surgery to have tumors removed in August. He lost 13 kilograms. "It made me reflect on my past 25 years. Maybe I've spent too much time running straight ahead without looking back," the 48-year-old said. "It taught me to be more humble."
Nicknamed "Tank," Choi, who was known for his steadfast advance in his performance, almost quit his professional career, but thankfully his operation results proved positive and he began to work out three weeks earlier. The Korean Tour Hyundai Insurance Choi Kyung-ju Invitational, which will be held at the Jungsan Country Club (par of 72) on Friday, will be the comeback stage for Choi.
The upcoming competition will be the first domestic competition for Choi since his most recent match in the Korean Tour Genesis Championship in May. Choi warmed up for practice Wednesday with his close friend Hong Soon-sang, amateur national team member Park Sang-ha (Shinheung High School in Chungju), who is also supported by the Choi Kyung-ju Foundation, and invited player Park Jin.  
Choi responded with his useful cheerfulness to juniors who worried over his health and drawn face. Choi responded with a smile when Hong commented on his shortened driver distance, saying that "my driver distance has grown longer than in May, when I was suffering from backache, despite that only half of my muscle mass has been recovered." "I feel so light," Choi said. "I used to have my T-shirts custom made because of my large frame. But now I can just buy clothes off the rack."
Choi also suggested a special award giving method to accredit his colleagues attending the special event organized by himself. Aside from the total prize money of 1 billion won, he worked with sponsoring company, Hyundai Insurance, to allocate reserve money of 35 million won for the first time for a Korean golf event. This means that players ranked 61st to 70th, as well as No. 1-No. 60 players will receive the prize money. In addition to last year, the Choi Kyung-ju Foundation funded the entry fee (110,000 won per person) for all participating players (114) and was praised to have promoted the value of a real invitational tournament.
Jong-Seok Kim kjs0123@donga.com