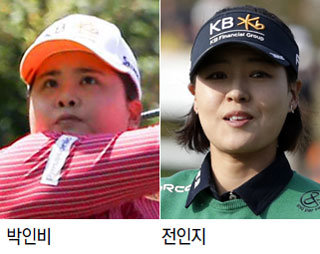 The Korea LPGA's KB Financial Star Championship, which is to be held in the Blackstone Golf Club in Icheon, Gyeonggi Province, on Thursday, has drawn much expectation due to the participation of Chun In-gee (24) and Park In-bee (30). This is the first time that the two South Korean star golfers compete in the KLPGA Tour since 2015, when Chun won the championship and Park finished second.
Both Chun and Park said they will deliver good performance in front of home fans as they now feel less burdened. Chun In-gee, who led South Korea's first victory of the International Crown early this month, shed tears thinking of the struggles she had to endure until finally ending the 25-month drought by winning the KEB Hana Bank Championship on Sunday. Having secured 450 million won in prize in October, Chun aims to clinch a victory for three consecutive weeks.
Meanwhile, Park In-bee, who claimed her first KLPGA Tour title at the Doosan Match Play Championship in May, is back in the field in a month. At the upcoming match hosted by their main sponsor, the KB Financial Group, Chun and Park said that they will focus on the play, not feeling the sense of burden to win the championship.
"I'm excited to play in the KLPGA Tour in two years. I'll aim for good performance," said Chun. Park, who had finished second three times out of five championships, said that "they have a tough course, but I'll play the game in a relaxed manner based on my experience last year."
Jong-Seok Kim kjs0123@donga.com