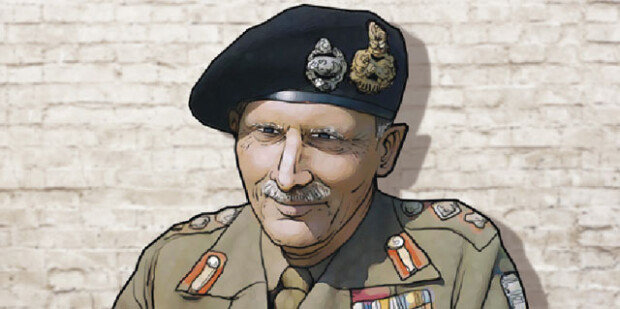 Field Marshal Bernard Law Montgomery, known as a hero of World War II, is one of the witnesses of war history in the 20th century. He participated in World War I as a platoon commissioner, ending up with an injury. However, he made honorable achievements during World War II by defeating German Gen. Erwin Rommel in North Africa, and, after the Normandy landings, making his way up to Berlin. In the latter half of the 20th century, Marshal Montgomery, as NATO commander, witnessed the era of the Cold War and nuclear armament. At a ripe old age, he published a book on the history of world war. Even as many writers have already dealt with war history, Montgomery is considered the most experienced general who wrote a book on the topic. This book got significant attention among readers. On the other hand, it's got us thinking of why he bothered to write a book at such an old age. In fact, he was known to have a great interest in warriors and training. During his service in the British Empire Army, he worked in various places across the globe. Wherever he went, he made a trip to nearby battlegrounds such as ancient Greek sites. U.S. Gen. George S. Patton, a rival of his, said that he read thousands of books, showing his wide understanding of war history. However, he had no chance to work in as many places as Montgomery because he was in the military before American imperialism was created.
In his book's introduction, here is a story. A young general asked Montgomery to tell him how to become a wonderful commissioner just as he was. He recommended studying war history. The young general with a disappointed look answered, "I think that having field experience matters more than studying theories at the desk." This answer must not have been new to experienced commissioners including Frederick the Great, Montgomery and Napoléon Bonaparte, who always gave their juniors the same answer: "Even after participating in more than 60 battles, two mules have survived. They are still mules."
In the 17th century, guns and cannons started to develop, making traditional military arms obsolete. By then, genius commissioners studied Roman classic references to get the answer to modern tactics from the Roman era when gunpowder was not used. That illustrates the power and necessity of humanities. There are increasing voices over the significance of humanities across society, which on the other hand makes me wonder whether we are ready and capable enough to learn a lesson.