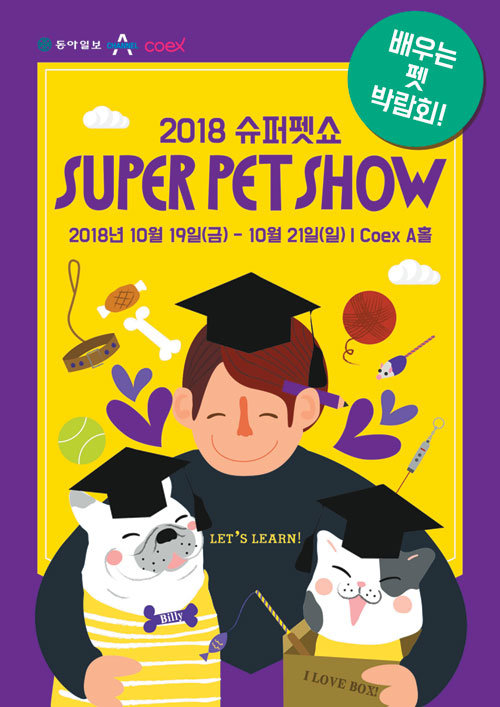 The "Super Pet Show 2018" will be held for three days from next Friday to Monday at COEX Hall A in Seoul. Jointly organized by The Dong-A Ilbo, Channel A, and COEX, the show will present a variety of pet-related products and services for pet owners and those without any companion animals alike.
The Super Pet Show is a comprehensive expo that was held for the first time last year for 10 million pet owners and pet-related industry workers. Showcasing pet-related products and services from some 100 companies in the areas of pet food, distribution, clothes, home appliances, finance, and automobiles, the expo received favorable reviews from visitors.
The slogan of this year's Super Pet show is "an expo where we can learn," suggesting that we should explore ways to ensure that both people with and without pets can live in harmony in an era when the widening range of pets' activities often leads to big and small conflicts, and even social issues. The slogan also signifies the show's purpose of sharing tips that can be useful for making the life of pets healthier and happier.
During the three days, special seminars with a total of nine themes are expected to be held, each of which will be joined by top experts in related areas such as behavioral psychology, health, interior design, and petiquette (pet etiquette). Park Hee-myeong, professor at Konkuk University, and Jeong Gwang-il, head of the Pet Behavior and Psychology Treatment Center, will meet with visitors under the themes of "understanding dogs' language throughout each stage of life cycle and communicating" and "best tips to easily solve dogs' problematic behaviors," respectively.
The greatest benefit of the pet exhibition is that visitors can take a look at and get hands-on experience of various products and services. Unlike other similar expos, the Super Pet Show is expected to be participated by a number of related companies. Molly's Pet Shop of E-mart will have a booth for the first time, and Dongwon F&B will display and promote a variety of products under its pet food brand "Nutriplan." Following last year, KB Financial Group will also take part in this year's edition and hold financial consultation sessions for pet-related services.
Chang-Kyu Park kyu@donga.com