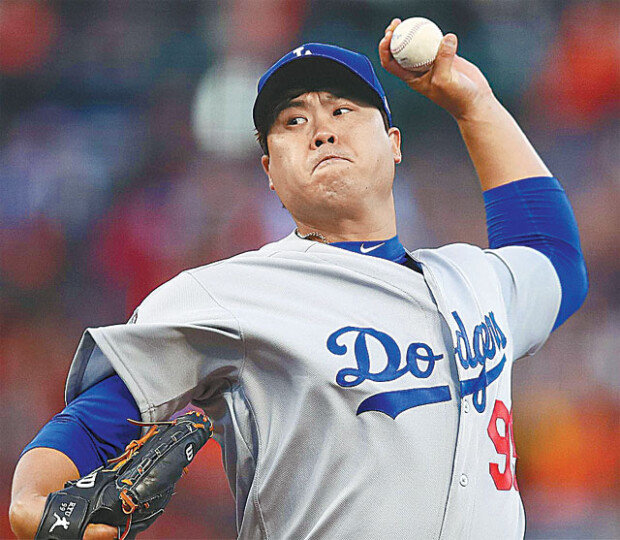 After winning the Game 1 of the National League Division Series against the Atlanta Braves, Dodgers left-hander Ryu Hyun-Jin will start the Game 2 of the NL Championship Series against the Milwaukee Brewers.
Dodgers manager Dave Roberts said on Wednesday (local time) that Ryu will take the mound in the Game 2 against Brewers and the decision was made so that Ryu can play in his best condition. Dodgers' ace Clayton Kershaw will start the Game 1 against Brewers, which starts at 9:09 a.m. on Thursday. Ryu will follow Kershaw to start the Game 2 at 5:09 a.m. on Friday. Ryu will take enough rest and seek to clinch his second victory in the postseason after his seven scoreless inning pitching performance in Game 1 in the Division Series on October 5.
The Game 1 and 2 of a best-of-seven Championship Series between Dodgers and Brewers will be held at Miller Park, home to the Milwaukee Brewers.
It had been expected that Ryu, who showed strong performance at home, would start in the Game 3, which is being held at the Dodger Stadium. But Roberts decided to start Ryu, who is rich in experience, in the Game 2 and start Dodgers rookie Walker Buehler in Game 3.
Ryu is not familiar with Brewers. He has only faced Brewers once at Miller Park on May 23, 2013, Ryu's debut year, winning the game after allowing two runs in 7 1/3 innings.
Meanwhile, Eric Thames, who played for NC Dinos in the KBO League from 2014 to 2016, is currently playing for Brewers. After showing a great performance last year, Thames was injured and is currently not included in Brewers' starting lineup for the Championship Series. But he is travelling with the team as a substitute.
Heon-Jae Lee uni@donga.com