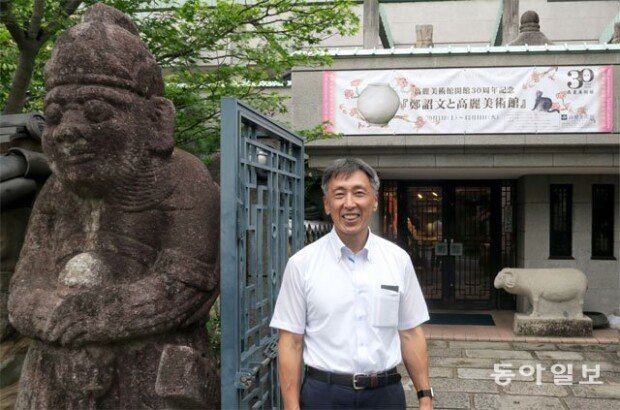 In a peacefully quiet residential area in Kyoto, Japan, there is a three-story building surrounded by the fence wall with Korean traditional roof tiles on it. This eye-catching Korean-style building is the Goryeo Museum of Art, the only one overseas museum dedicated to Korean cultural heritages. Going inside, you can see a familiar stone tower with five stories. Executive Director Jung Hee-do, 59, explained that the five-story pagoda, of a style between the late Unified Silla and the early Goryeo Dynasty, was retrieved after Japan took it away in the 1910s. His deep affection toward the pagoda was palpably represented by his soft touching of the stereobate.
"The pagoda was left collapsed and abandoned in the front yard of a rich family in Kobe. It took around 10 years for my father to persuade the former owner to bring it back to us," he said. "Every piece of our museum's collection has their own stories."
The late Korean Japanese Jung Jo-moon (1918-1989) is his father who founded the museum at his own expense on Oct. 25 in 1988, with more than 1,700 cultural pieces ranging from chinaware to books to paintings. This year marks its 30th anniversary. During the reporter's visit on Sept. 7, an exhibition titled "Jung Jo-moon and the Goryeo Museum of Art" was in its full swing to celebrate the 30th anniversary of the venue.
The celebratory exhibition will showcase the founder's some 80 favorites through December, one of which is a simple and plain ceramic pot with a sailboat and fish drawn on it. He used to say that he wished to sail on such a small boat to take a step on his motherland. Because of the founder's special affection toward the sailboat, the logo of the museum looks alike its shape.
Jung Jo-moon suffered heart-breaking discrimination while he grew up in Japan. He believed in the power of cultural heritages. He aspired that such cultural exchanges would improve bilateral ties between Korea and Japan. He carried out 32 rounds of field trips to trace the remnants of Korean culture on Japanese soil for more than 10,000 Japanese. His lifetime goal was to build a museum to promote Korean culture across Japan. Inspired by his efforts, Japanese writer Ryotaro Shiba (1923-1996) once gifted him his handwriting to hope Jung's dreams would come true.
easy@donga.com