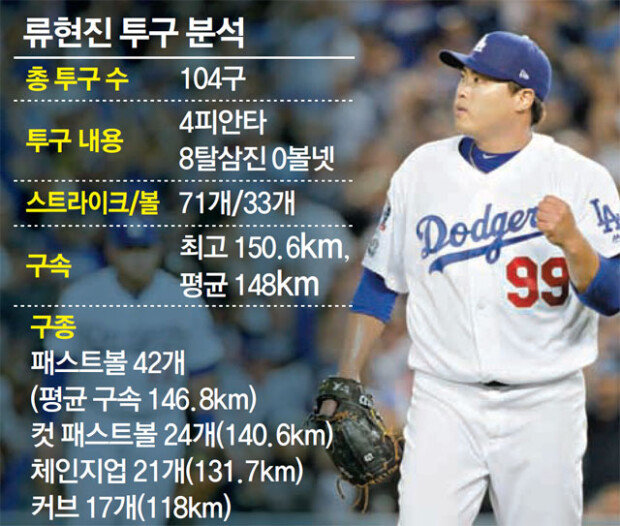 Starting Ryu Hyun-jin over Clayton Kershaw in Game1 of the National League Division Series could be seen as an unexpected decision by the Dodgers. But over 50,000 fans at the stadium responded to the decision with a standing ovation to Ryu. The first game of the National League Division Series between the Los Angeles Dodgers and the Atlanta Braves was held on Thursday (local time) at Dodger Stadium in Los Angeles, California.
Contrary to expectations that Dodgers' ace Kershaw will start Game 1, manager Dave Roberts decided to start Ryu instead in the postseason opener. The decision was based on Ryu's pitching, taking an upturn in recent weeks. Some cast doubt on the decision, but Ryu proved that day, with perfect pitching, that Dave Roberts made the right decision.
It was the best pitching for Ryu during the season. He became the first Korean baseball player to start Game 1 of the Major League Division Series and pitched seven shutout innings. After the game, The Los Angeles Times said Ryu Hyun-jin put handcuffs on the Brave hitters.
Ryu pitched seven dominant innings, allowed four singles, struck out eight and walked none. With the Dodgers beating the Braves 6-0, with the help of three homers, Ryu clinched his first postseason win in five years. He also redeemed himself a dismal performance he displayed in 2013, when he was relieved after three innings in Game 3 of the NL Division Series against the Braves in 2013.
yesbro@donga.com