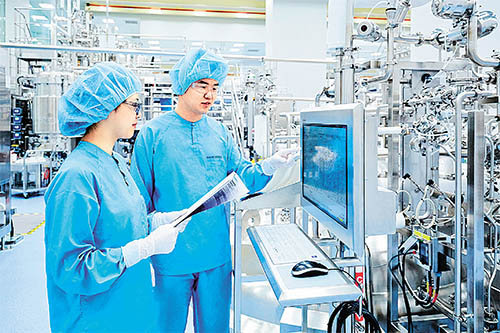 Samsung Biologics said on Monday that it has completed its own validation of its third manufacturing facility, the world's single largest biomanufacturing facility, and will start operation of the plant based on the current Good Manufacturing Practice (cGMP) requirements to receive approval of manufacturing for global clients. The four-story facility, located in Songdo, Incheon, is spread over 118,618 square meters, twice the size of Sangam World Cup Stadium in Seoul. Its production capacity is 180,000 L, an increase of 20 percent from the company's second facility.
Biopharmaceutical facilities are required to conduct their own validation process, from design to facility, equipment, components, documents, and personnel, in accordance with the cGMP standards before kicking off operation. "To shorten the validation process for our third plant to 10 months, which is two months faster than that of our second facility, we utilized the know-how accumulated from operating our first and second plants," said an official from Samsung Biologics.
After completing self-validation, pharmaceutical companies run pilot production for two years in line with cGMP, and start production in full swing after getting approval of manufacturing for global clients.
"Starting production in a cGMP environment is evidence that Samsung Biologics has arguably become one of the world's largest CMO," said Kim Tae-han, CEO of Samsung Biologics. "We will not be complacent and will further enhance our competitive edge to change the paradigm in the global biopharmaceutical production market."
salthj@donga.com