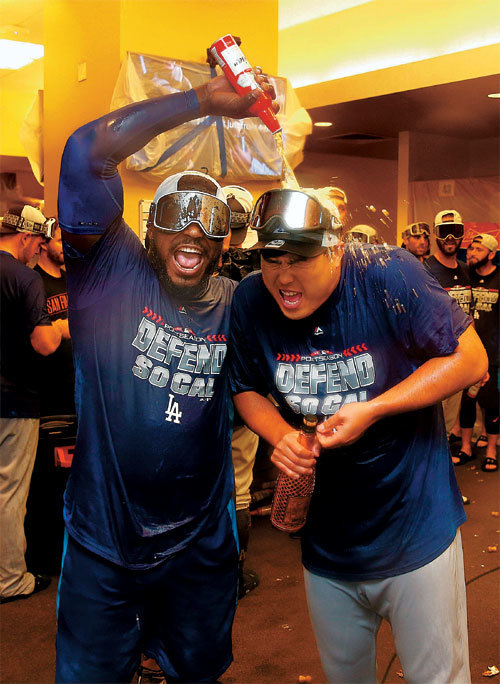 Los Angeles Dodgers pitcher Ryu Hyun-jin, 31, finished his last game of this season on Saturday (local time) with a great score report – only one run during six innings. Since his first season in MLB in 2013, he has achieved his 40th win. His ERA was reduced from 2.00 to 1.97. Even though he has played a relatively small number of games over the last six years, he has practically joined the ranks of "top-level" players.
Added to this, Ryu deeply impressed his colleagues and baseball fans with his great performance in competition with San Francisco Giants' big-game starter Madison Bumgarner, who has led the team to several World Series titles. The Dodgers' third baseman Justin Turner commended that his Korean colleague would have been nominated a candidate of the Cy Young award if he had not experienced an injury. With the victory on Saturday, the Dodgers claimed a post-season spot for six consecutive years as well as a top ranking of wild cards, aside from its competition for the top of the NL West.
Ryu's recent great performance has had positive influence on the team. By the time competition was heated up for the top spot of the league, the Dodgers fought hard to achieve three consecutive wins in the games with Ryu on the mound. Ryu also contributed to preventing a third straight loss against the Giants. Motivated by this recovery, the LA-based team achieved two consecutive wins on Saturday to share the lead of the league with Colorado that lost to Washington on the same day, pushing its competitor to a final game.
If both the Dodgers and the Rockies win or lose in the last games scheduled on Sunday, a final match will take place to decide the final winner of the league. If one wins and the other loses, the final rankings are determined according to the results.
Bae-Jung Kim wanted@donga.com