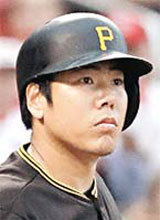 Pirates infielder Kang Jung-ho is making a major league comeback in two years after his DUI incident.
Pirates general manager Neal Huntington said in an interview with the MLB.com that Kang will rejoin the team on Friday (local time). The Pittsburgh Pirates will wrap up the season after a three-game series against the Reds in Cincinnati that ends on Sunday.
It has been two years since Kang last played in a Pirates uniform in a match against the St. Louis Cardinals on October 3, 2016. Kang was charged with leaving the scene of a DUI accident in December 2016.
Huntington said it would be hard to eval‎uate Kang after one or two games and he wanted to "respect his hard work and his intent to get back."
Heon-Jae Lee uni@donga.com