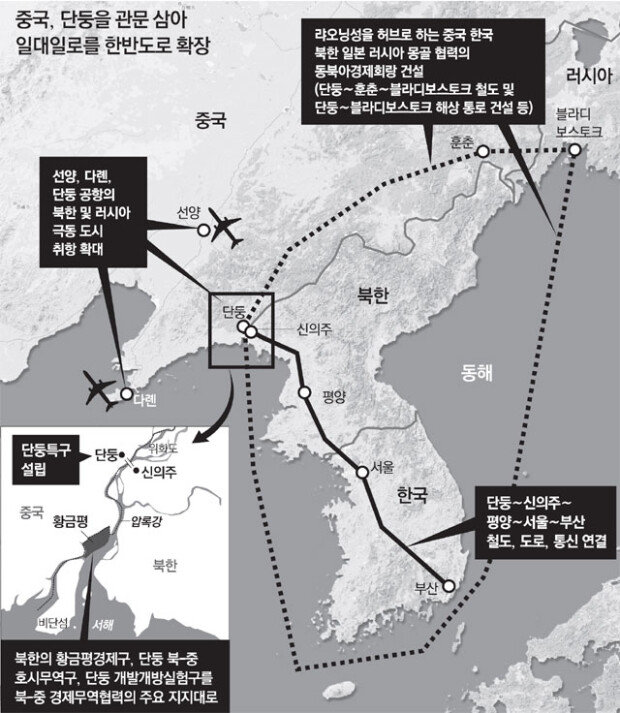 China has revealed a plan to expand its "Belt and Road Initiative" (intended to interconnect infrastructure corridors and promote economic growth) with Dandong, a city in Liaoning province that borders North Korea, as a gateway.
The province of Liaoning has proposed a plan to the government to "link its city Dandong with the Korean Peninsula" via rail and road as part of its contribution to China's "Belt and Road Initiative," according to the official Liaoning Daily. The province has suggested a rail, road, and communications link from the city of Dandong to the North Korean capital Pyongyang and then on to Seoul and Busan in the South, saying that the link would be a direct route to a port in the south, referring to the city of Busan through which it can expand its plan to the Pacific. The province is also pushing for a new road between Dandong and Pyongyang through Sinuiju.
The document also said that the province will further develop a North Korea-China economic zone in Hwanggumpyong Island and the two countries' border trade zone in Dandong into the important pillars of economic cooperation with the North along with Dandong's key development zone for experiments. Liaoning is also seeking central government approval at due time to establish a special economic zone in Dandong while increasing flight routes between airports in Shenyang, Dalian, Dandong and North Korea and Russia's Far Eastern cities.
The document also included a plan to support the cross-border trade zone in Dandong as an online e-commerce platform for the two countries. "Guided by the important consensus by the leaders of China and North Korea, (we) steadily make plans of cooperation with North Korea," said the provincial government, indicating that the initiative's expansion into the Korean Peninsula had been agreed upon by President Xi Jinping and North Korean leader Kim Jong Un at previous three rounds of bilateral summits.
Beijing's such plan is pushed alongside the establishment of "Northeast Asian Economic Corridors," for which China, South and North Korea, Japan, Russia, and Mongolia work together. The Liaoning province said that it will create a group that shares a common destiny in Northeast Asia by converging economic corridors that connect China, Russia, and Mongolia with a framework called the "China-Japan-South Korea plus X model" so that the six countries can enhance cooperation. This embodies the country's intention to take the lead in the development of the Northeast Asian region with Liaoning as a hub. The "China-Japan-South Korea plus X model," first suggested by Chinese Premier Li Keqiang at a trilateral summit in May, calls for free trades with other countries including a free trade agreement between the three countries.
An expanded Belt and Road Initiative of China overlaps with South Korean President Moon Jae-in's inter-Korean economic policy called "New Economic Map" that plans to connect cities from Seoul to Pyongyang, Sinuiju, and Dandong. "This may be an opportunity for South Korea and China to cooperate on the development of North Korea's infrastructure, but it is also possible that China may try to absorb South Korea's policy into its own initiative," said a diplomatic source. In fact, while Seoul and Busan are included in Beijing's plan for expansion, the document only emphasizes cooperation with the North while not mentioning any of it with the South.
Some say that U.N. Security Council resolutions on the North Korean regime are likely to be violated in the process of expanding China's initiative into the Korean Peninsula. "China was unlikely to push forward any infrastructure projects with the North while sanctions were still in place," said Hong Kong's South China Morning Post (SCMP).
Wan-Jun Yun zeitung@donga.com